How to make the best scrambled eggs! I'm sharing how I make them in my own kitchen so that the eggs are soft, creamy and delicious. Jump to the Soft and Creamy Scrambled Eggs Recipe or watch our quick recipe video showing you how we make them.
Watch Us Make The Best Scrambled Eggs
How I Make The Best, Creamiest Scrambled Eggs
I've been making scrambled eggs since my father taught me at 10 years old so I like to think I've been perfecting them for over 20 years! When it comes to scrambled eggs, I look for the eggs to be soft and creamy.
You won't believe how simple our scrambled eggs recipe is. Follow my tips and you'll be making the best eggs of your life in no time! I honestly consider these be the best scrambled eggs: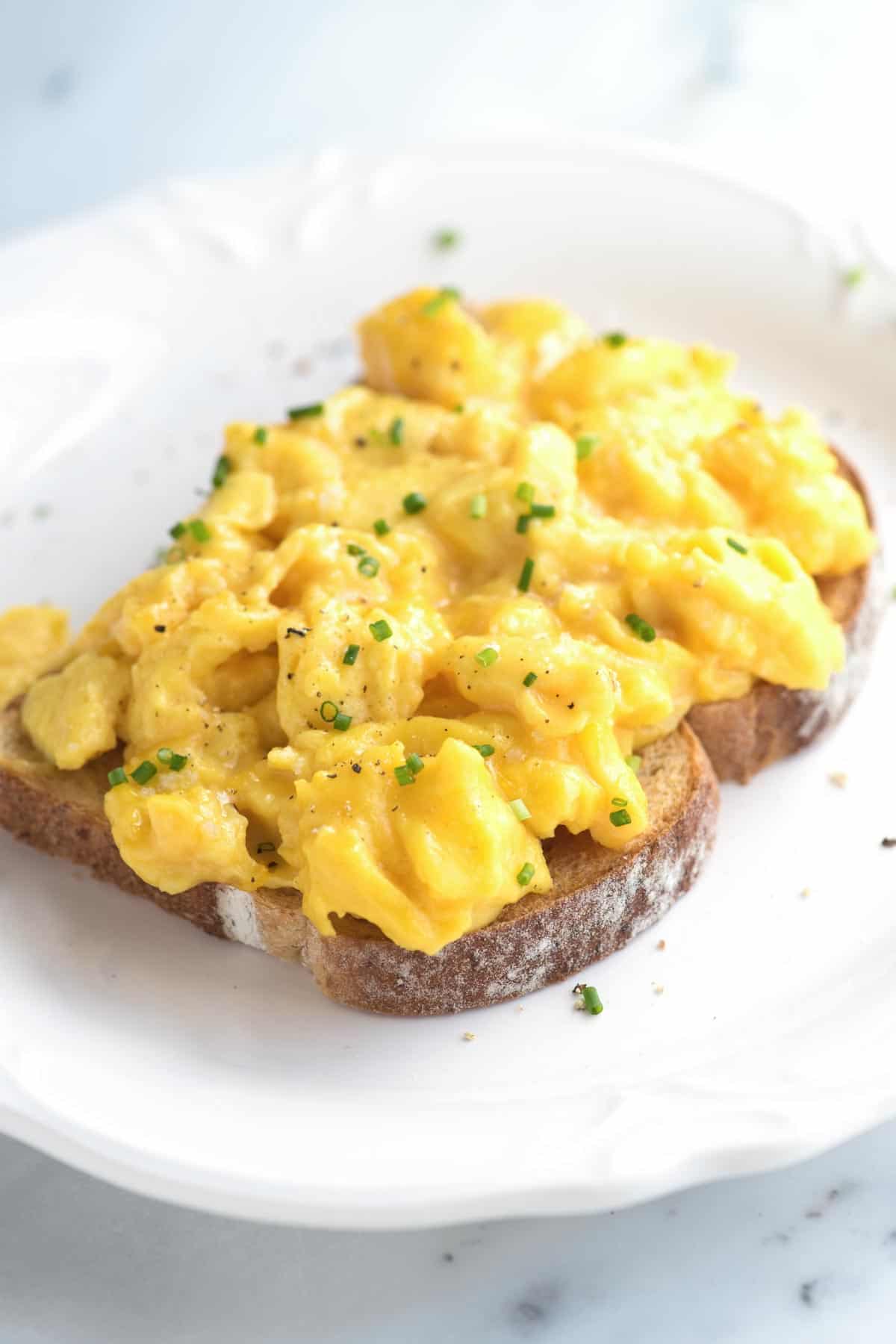 Use a nonstick pan and a silicone spatula — When scrambling eggs, we use a high-quality nonstick pan. I also love using my silicone spatula since the flexibility lets me swirl and sweep the eggs as they cook.
I only use eggs, butter, and salt to make scrambled eggs — no milk or cream! I've never understood why people add extras like milk, cream, and even sour cream to eggs before cooking them. Milk and sour cream water scrambled eggs down and to us, the cream is just unnecessary.
If you use quality, fresh eggs and cook them low and slow (more on that below), you don't need anything else. Just a touch of salt and a grind of black pepper. By the way, I love scrambled eggs cooked in butter, but I will often switch it up and use a fruity olive oil.
Don't crack eggs directly into the pan — It does add another dish to clean, but it's really important that you crack eggs into a bowl and whisk before adding to your pan. The eggs don't need to be whisked forever, just do it until the egg white and egg yolks are blended.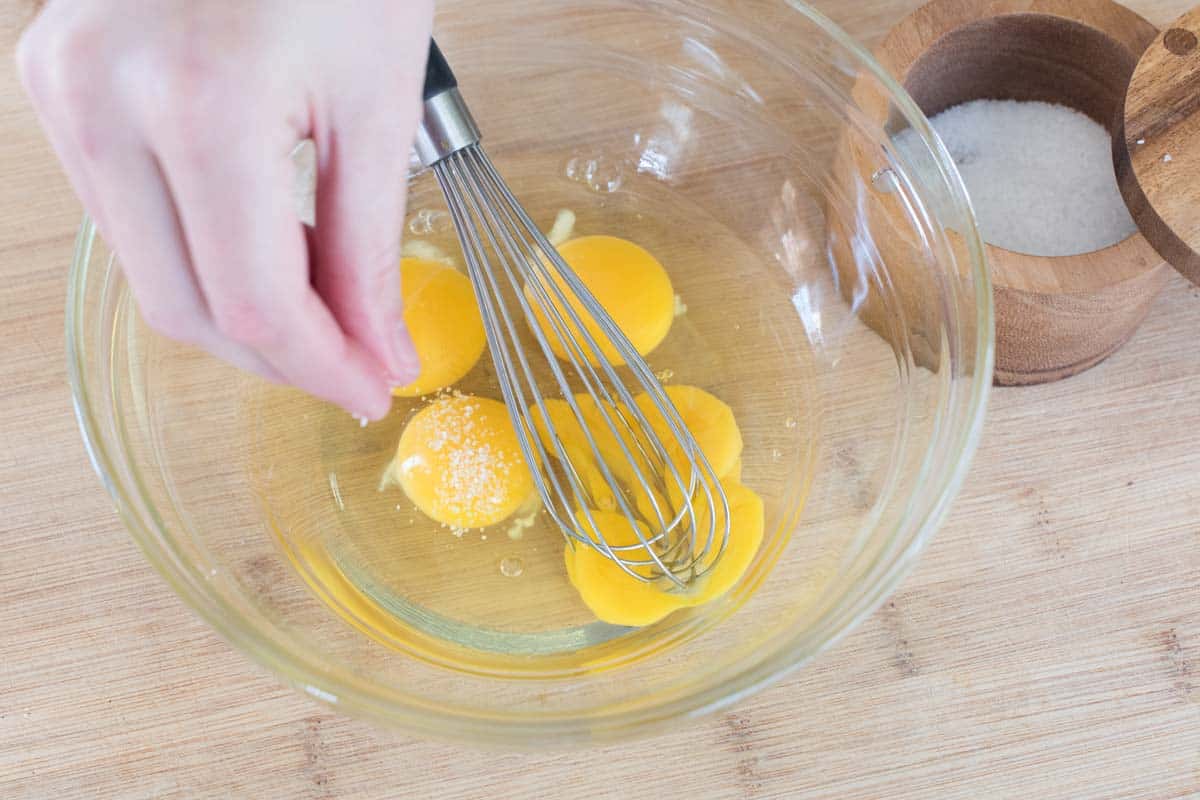 Use Low Heat — The trick to creamy scrambled eggs is most definitely low heat. Making scrambled eggs over high heat kills them — they become dry and bland. Scrambled eggs are all about cooking low and slow — that's how you can achieve creamy eggs.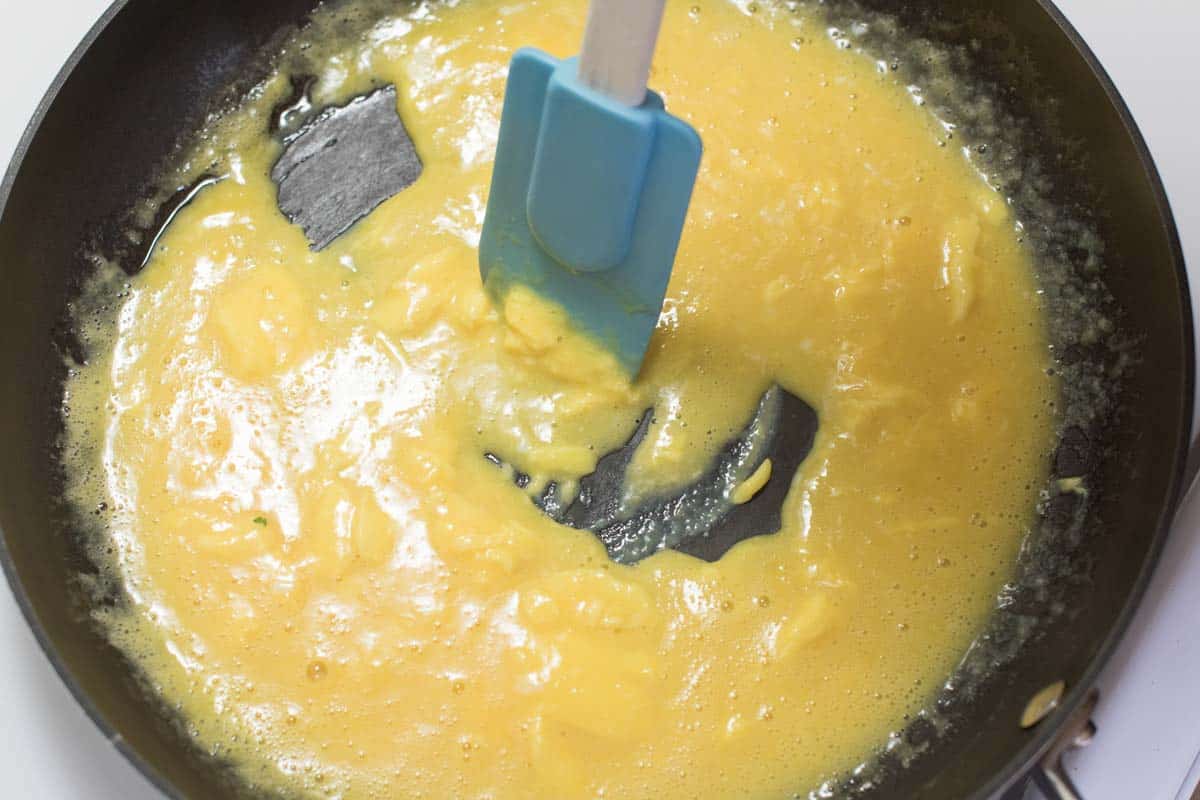 Swirl then Sweep — We prefer scrambled eggs with larger curds than small, but love them to be extra creamy. The moment the eggs hit the pan, I use our silicone spatula to rapidly swirl in small circles around the pan — we do this, without stopping, until the eggs look slightly thickened and very small curds begin to form (this achieves the creamy part). Then I change from swirling in circles to making long sweeps across the pan, making larger, creamy curds.
Don't Forget About Carryover Cooking — Eggs are delicate and cook very quickly. Even over low heat eggs can go from liquid to overcooked in seconds. It's important to take the pan off of the heat before your eggs have finished cooking.
The scramble should look softly set and slightly runny in places. Even though you've taken the pan off the heat, the eggs will still continue to cook (that's carryover cooking). Give the eggs a few seconds in the hot pan (off the heat) and you'll find the eggs turn out to be perfectly cooked — not dry, not too wet.
Scrambled Egg Recipe Variations
My favorite way to enjoy scrambled eggs is on top of a slice of toast and topped with a few grinds of black pepper, a little extra salt, and freshly chopped chives.
You can also add extra ingredients to the scramble itself. In our dill scrambled eggs recipe, we swirl in fresh chopped dill to the whisked eggs. If you've never had eggs and dill together, I highly recommend it.
For a cheesy egg scramble, add soft or shredded cheeses like goat cheese or shredded cheddar to the eggs just as they finish cooking. The heat from carryover cooking will be enough to melt the cheese into the eggs. We add feta to these scrambled egg, spinach, and feta breakfast burritos and love it.
For scrambled eggs with sausage, take a look at our chorizo egg scramble. I love the spice of chorizo, but you can always substitute something else, like Italian sausage. If you love bacon, then take a look at how we add bacon and shredded potatoes to the eggs in these easy breakfast tacos.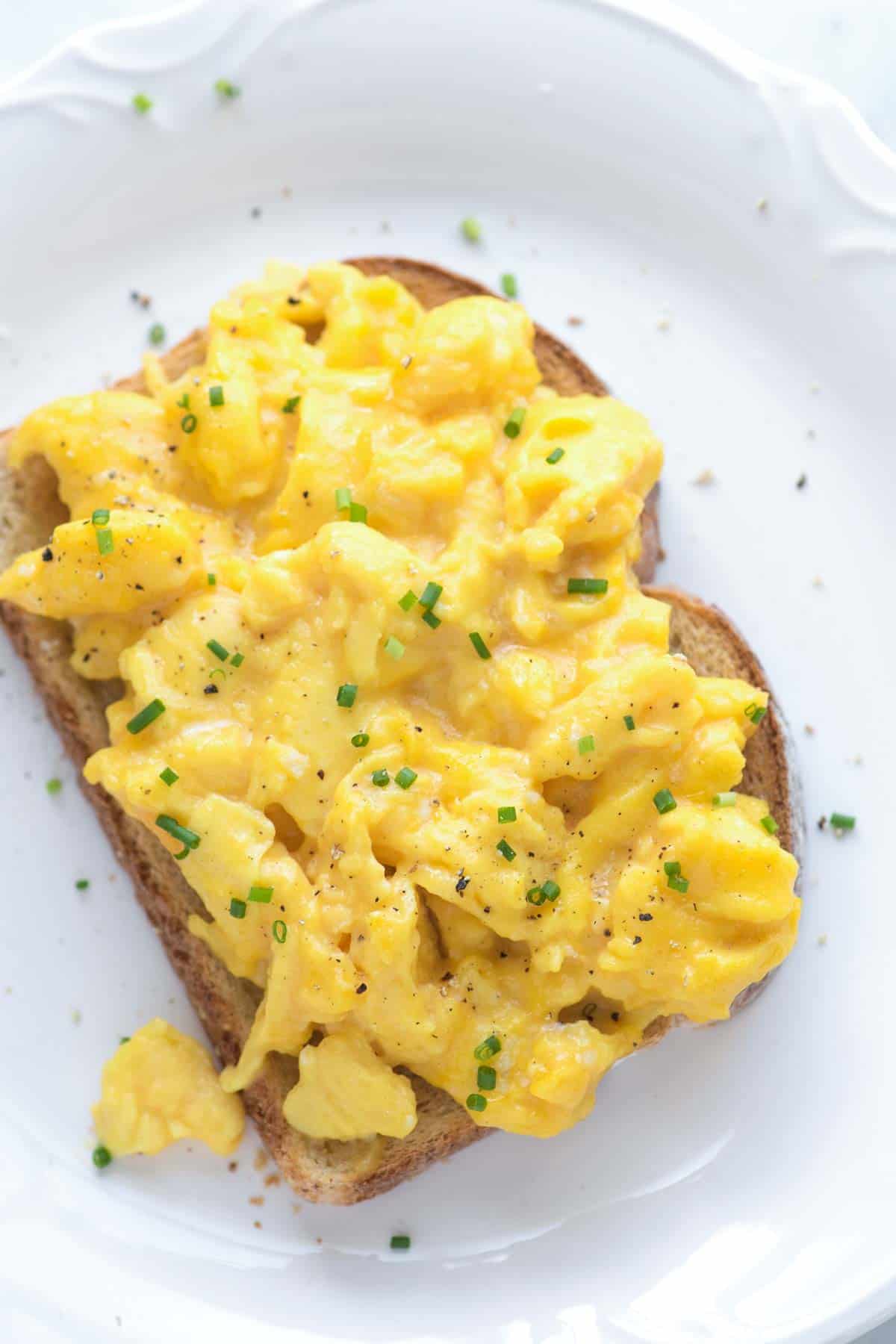 More Easy Egg Recipes
How to Cook Hard Boiled Eggs – We show you how to cook hard boiled eggs perfectly, every time.
Simple Egg Salad Recipe – Easy egg salad recipe with a little mayonnaise, celery, fresh herbs and a spritz of lemon to brighten things up.
How to Poach an Egg – Learn three tips for making perfectly cooked poached eggs at home.
Avocado Egg Salad – This egg salad combines two of our favorite things: eggs and avocado. In addition to the avocado, we add a little mayonnaise for moisture, celery for crunch, fresh herbs and a small amount of lemon juice to brighten things up.
Easy Vegetable Frittata Recipe – The perfect frittata is soft inside with a texture similar to custard. You can pack just about anything into it. In our vegetable frittata, we add lots of colorful and tasty veggies, cheese, and herbs.
Recipe updated, originally posted December 2015. Since posting this in 2015, we have tweaked the recipe to be more clear and added a quick recipe video. – Adam and Joanne