Whether you call it a breakfast casserole, a frittata or a quiche, this one-pot meal is the best part of waking up. Ham and cheese, meat lovers, or plain and simple, we've got an Instant Pot breakfast casserole recipe that you and the family will love. 
---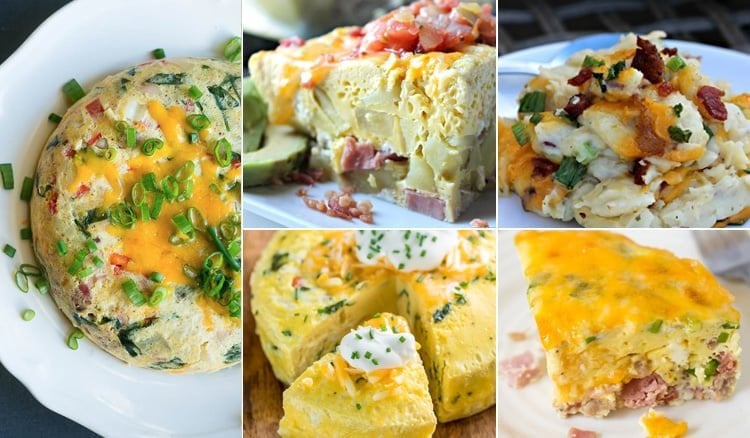 Whether you call it a breakfast casserole, a frittata or a quiche, this one-pot meal is the best part of waking up. There are countless ways to make eggs in the pressure cooker, but this is undoubtedly one of our all-time favorites. We love the idea of tossing the ingredients into the pot and having a full meal on deck – and multiple servings at that!
Ham and cheese, meat lovers, or plain and simple, we've got an Instant Pot breakfast casserole recipe that you and the family will love. Make meal prep easy with one of these ideas. Set it and forget it, and you've got good eats for the entire week.
Instant Pot Ham & Egg Casserole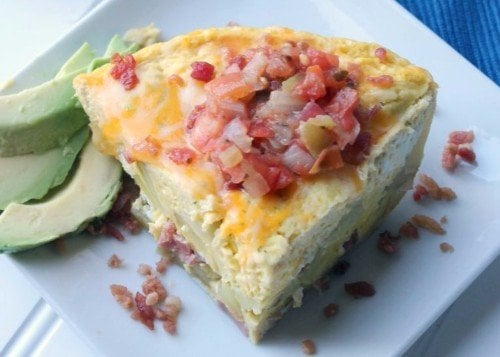 Who doesn't love ham and cheese in their eggs? It's the classic combo and a hearty one at that. After all, you don't want to skimp on breakfast. The combo provides loads of healthy, sustainable energy with a nice balance of fat, protein and of course… flavor! Plus, potatoes lend themselves to this slice's density without gluten or grains – score.
Handy accessories to make breakfast casseroles and quiches in an Instant Pot: we love this heatproof casserole dish that can fit inside the pot or this aluminum 6″ cake tin that can be used for the casserole or quiche. Make sure that the bottom is sealed enough to keep the liquid in. Recipe from Six Sisters' Stuff.
5-Ingredient Instant Pot Cheesy Egg Bake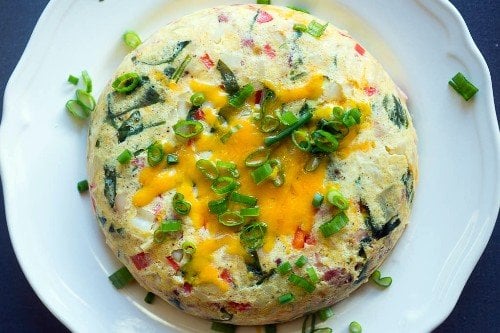 You can't go wrong with a five-ingredient recipe that ends up looking THIS good. This egg bake is speckled with bacon, hash browns, cheese and your choice of veggies for a one-stop-shop including all the things you want for breakfast. In case you can't decide, have it all. Recipe from Kitschen Cat.
Crustless Instant Pot Meat Lovers Quiche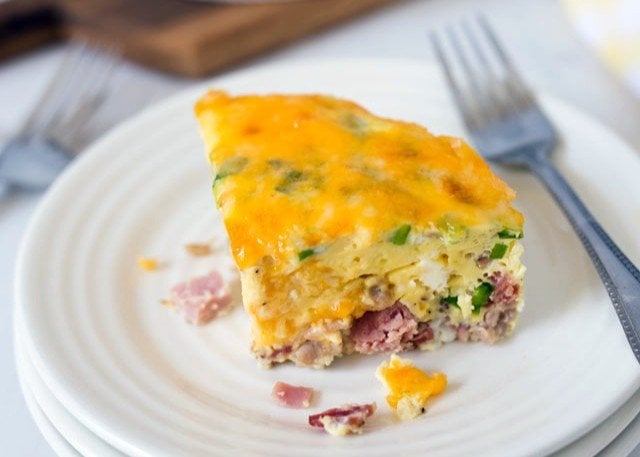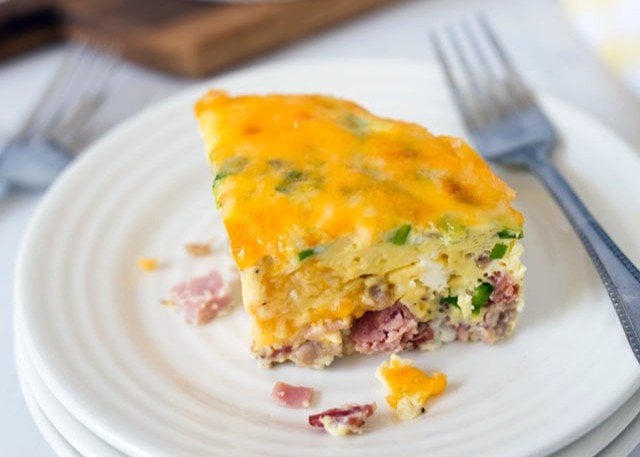 No crust, no problem – not for this quiche. It's totally cafe-worthy, so make it for a crowd and don't forget mimosas on the side. Inside, you'll find what really matters: sausage, ham, and bacon because the meat lover's title doesn't lie! Don't forget the cheese… but how could you? Recipe from Pressure Cooking Today.
Twice-baked Instant Pot Potato Casserole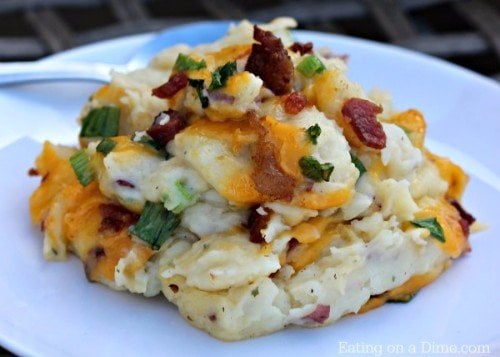 There's something fabulous about waking up to a heap of potatoes. Whether you like your hash browns shredded or you dig your home fries in chunks, you can't deny their goodness. Enter this twice-baked casserole, topped with cheese, bacon, and chives for ultimate A.M. awesomeness. Recipe from Eating on a Dime.
Pressure Cooker Quiche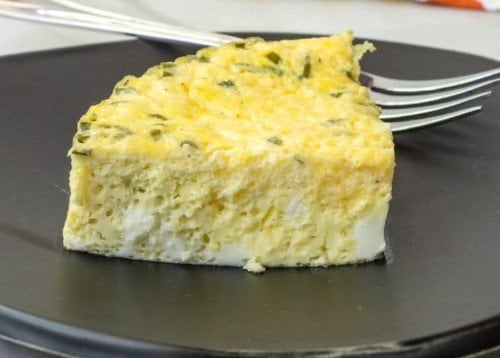 If classic quiche is your breakfast soulmate, this is your one true love in Instant Pot recipe form. It's eggs, milk, and cheese that give quiche it's fluffy texture and the rest of the ingredients are simple; chives, salt and pepper for add-ins are all you need to make this recipe a total success. Recipe from Stetted.
Mexican Instant Pot Egg Casserole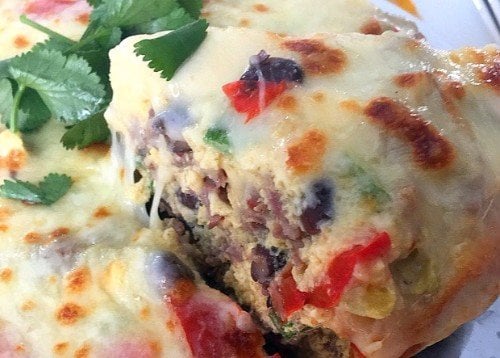 If you're looking to add some south of the border flair to your breakfast, this casserole is perfect. It's jam-packed with tasty and healthy ingredients like black beans, red pepper, green onion sausage and cotija for authentic Mexican flavor and lots to look forward to with each and every bite. Recipe from Tater Tots & Jello.
Veggie Instant Pot Breakfast Casserole
This Instant Pot Breakfast Casserole is basically the deep-dish crust-less quiche of your dreams! Serve it up for breakfast, brunch, or brinner and feel free to make it in advance – it's great the following day! Recipe from Peas & Crayons.
Instant Pot Banana French Toast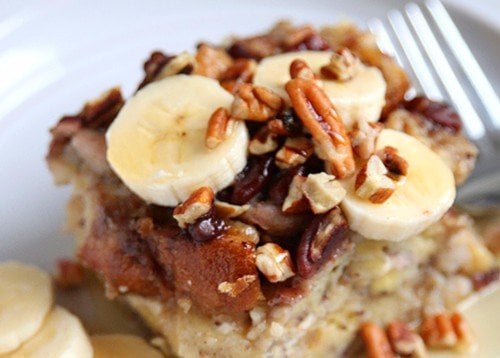 While this isn't your standard casserole, it's basically a sweet version of your standard egg bake… except with more bread and more bananas, of course. If you want to kick off the morning with something that feels a bit more decadent than cheesy eggs, this recipe is for you! It's like a mixture of classic French toast and bread pudding. Swoon. Recipe from Living Locurto.
Instant Pot Breakfast Burrito Casserole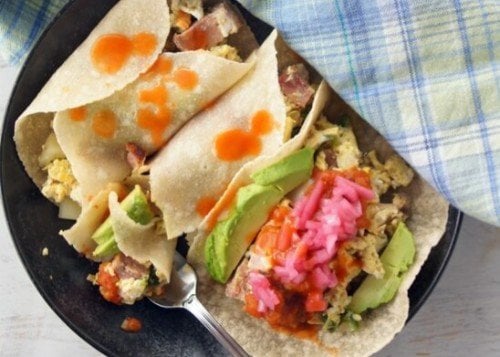 The most logical thing to do with breakfast casserole is to make tacos or burritos out of it – right? This recipe features a grain-free tortilla, so this hash is paleo-friendly and easy to whip up in the Instant Pot with ham steak, potatoes, jalapeno, and all your favorite taco fixings! Top with avocado, pickled veggies, and salsa for the best results. Recipe from A Real Food Journey.
Instant Pot Spanish Tortilla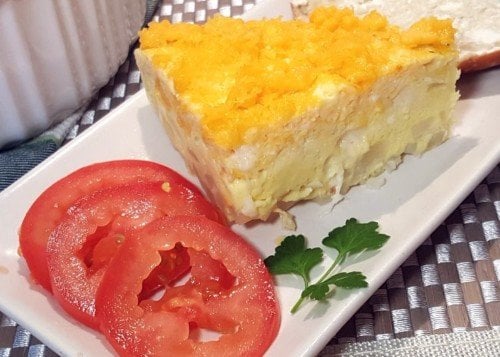 Spanish tortilla or Cuban frittata is an egg and potato bake that basically resembles a frittata. This thick slice is topped with bacon and cheese, although you can opt to keep it simple or add in additional ingredients like veggies. It makes a great main dish or you can serve it alongside your favorite protein. Recipe from This Old Gal.
Happy eating! What's your favorite breakfast casserole on today's list? Have you made one in your Instant Pot before? Share this article with someone who could use some morning meal prep inspiration! Share on Pinterest from here.
---
SAVE THESE CASSEROLE IDEAS TO PINTEREST