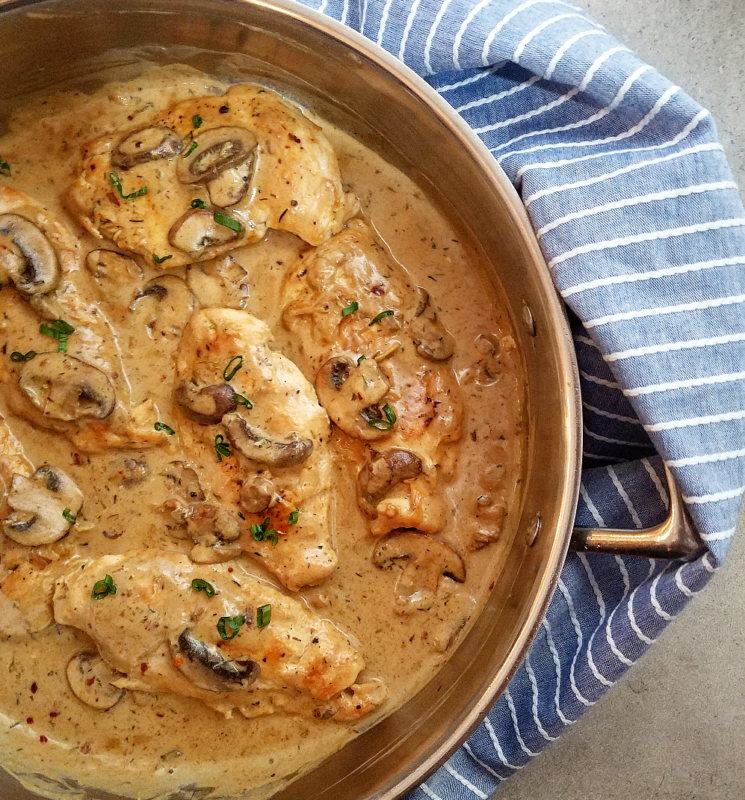 If I had to choose one WW-friendly dish to make for the rest of my life, it would be Creamy Mushroom Parmesan Chicken. I know that sounds dramatic, but just trust me on this. I've made it for guests and they always tell me it's one of the best dishes they've tried. I never even told them it was low in points. 
It seems so fancy and decadent because of that sauce. As Julia Child taught me, white wine and cream are a match made in culinary heaven. I would watch reruns of her classic show on public access TV as a child, so I always knew that butter, cream, and white were all you needed to make anything taste fabulous.
That's definitely still true. I just needed to find ways to make that magical combo a little more sustainable when thinking of my health. That's where the idea for this Creamy Mushroom Parmesan Chicken started.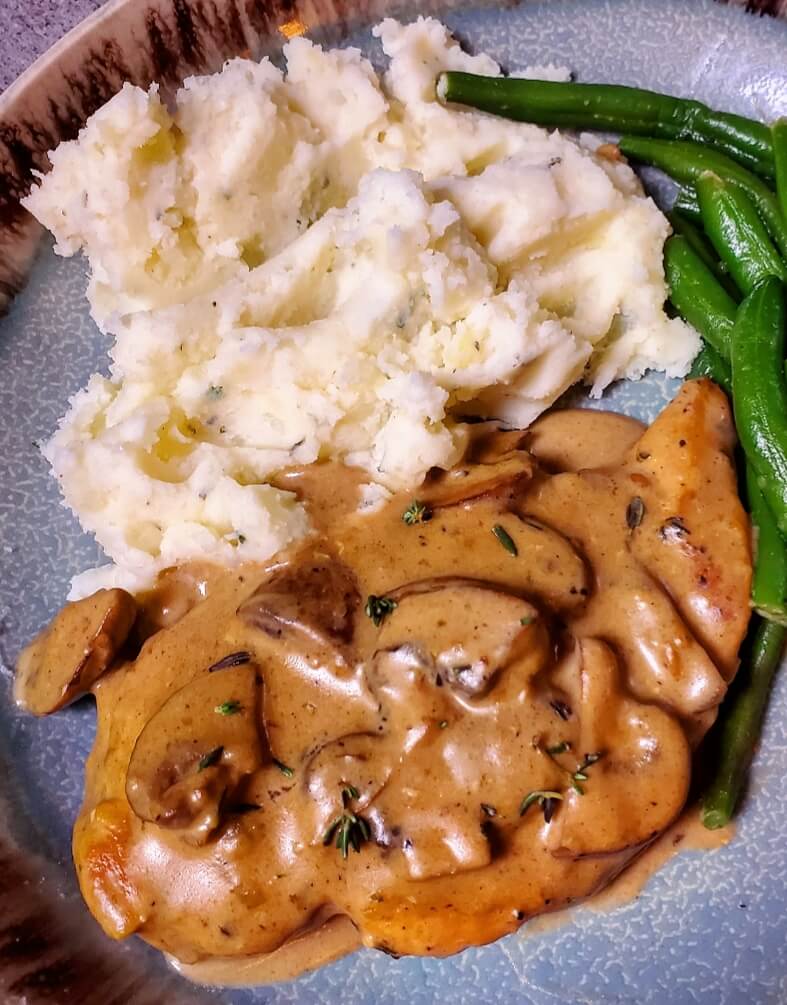 How to lighten it up
After testing a lot of different variations, I found that the butter wasn't necessary in a dish like this. We can also swap out heavy cream for half and half.
Although many of you have told me you've had success using fat-free half and half in this recipe, I really prefer the full-fat version here. The fat free versions are usually highly processed with added sugar. Small amounts of fat here and there keep you more satisfied. It's definitely worth it to me to go with the full-fat in the this recipe.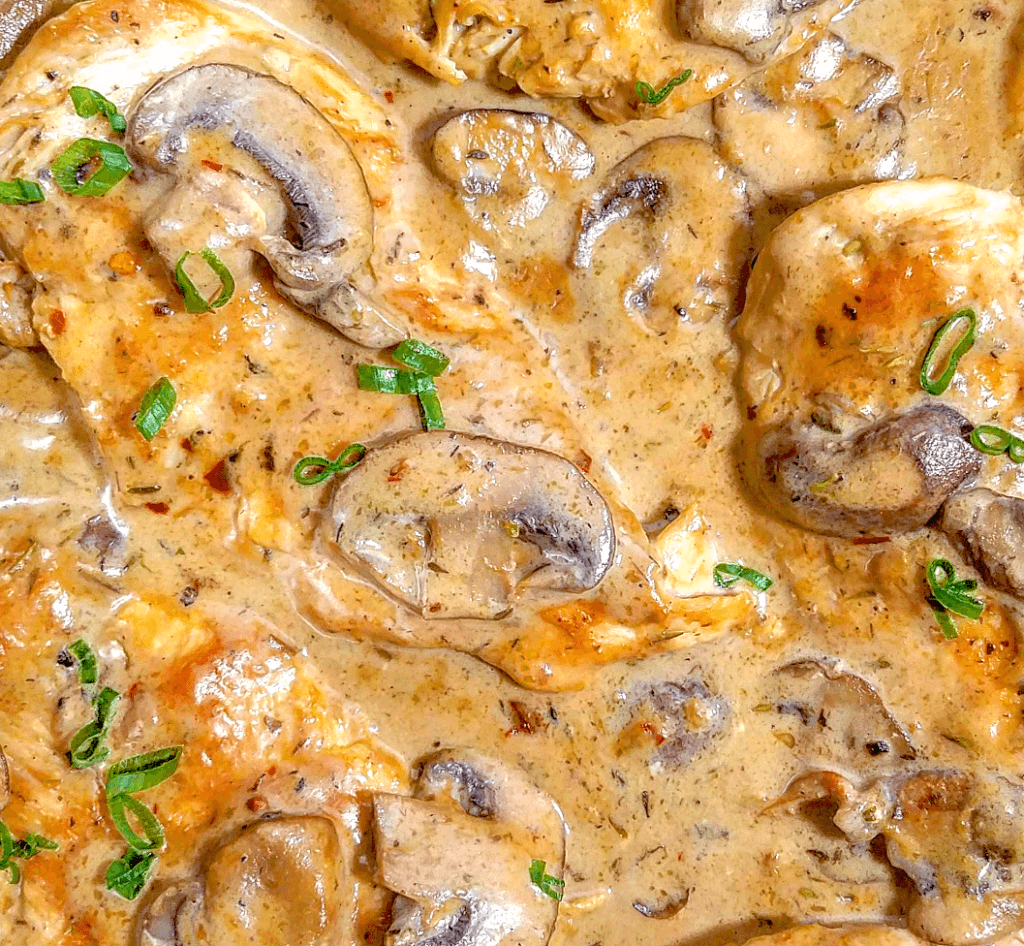 You'll be surprised by how much flavor and complexity you can get out of a dish that takes only 30 minutes to make! 
I'd love to hear from you if you make this recipe! It makes my day when you share your pics on Instagram and tag me (@litecravings). Don't forget to use #litecravingsrecipes to make sure I see it. If I don't get a chance to scroll through my tags quickly enough, I won't see your post. I always make a point to look through the hashtags, though, so I'll see it there!
Print Recipe
Creamy Mushroom Parmesan Chicken
Ingredients
3

large

chicken breasts, cut in half lengthwise

2

tsp

olive oil

3

garlic cloves, minced

8

oz

mushrooms, sliced

3/4

tsp

dried thyme, or 2 tsp fresh thyme

1/3

cup

dry white wine

1/2

cup

half and half

1

cup

almond milk

1 1/2

tsp

cornstarch

1/2

cup

grated parmesan cheese

1/2

tsp

kosher salt

freshly ground black pepper to taste
Instructions
Salt and pepper chicken. Heat a large skillet to medium-high and add olive oil,  then sear the chicken, about 5 minutes a side. Make sure you get a nice sear on the chicken to add depth to the sauce. There should be lots of browned bits in stuck to the skillet. Move chicken to a plate and cover with tinfoil. 

In the same pan, saute garlic in cooking spray for 30 seconds. Add mushrooms, thyme, a pinch of salt. Brown mushrooms, then deglaze pan white wine. Scrape the bits from the bottom of the pan and cook until wine is evaporated and mushrooms are soft, about 5 minutes

Whisk half and half, almond milk, and cornstarch together in a separate bowl. Add to the pan, bring to a low boil, then simmer until slightly thickened, about 5 minutes. 

Add parmesan and stir until melted into the sauce. Place chicken and juices back in the skillet and simmer until chicken is heated through. 
Notes
WW Green SmartPoints: 6 for 1 chicken breast and about 1/4 cup of sauce
WW Blue SmartPoints: 3 for 1 chicken breast and about 1/4 cup of sauce
WW Purple SmartPoints: 3 for 1 chicken breast and about 1/4 cup of sauce
 
Nutrition
Calories:
260
kcal
|
Carbohydrates:
6
g
|
Protein:
34
g
|
Fat:
11
g
|
Saturated Fat:
4
g
|
Fiber:
1
g
|
Sugar:
2
g