Everyone needs a good garlic mushroom pasta recipe in their back pocket for last minute dinners!
It's packed with umami flavor and boosts your mood at the end of a long day, it's easy and comes together in only 15 minutes. This is a real treat for spaghetti and mushroom lovers and guaranteed to please the entire family.
I love carbs, but I try to avoid pasta dishes in the evening. That being said, and despite all my resolutions, when I cook this fragrant garlic mushroom pasta for my boys in our busy weeknight dinners, I just can't resist. The smell of the garlic, the intensely flavored gravy released from the mushrooms, the savoury parmesan cheese and the aromatic parsley… it's just too good. WHO can resist? Not me.
Let me tell you how easy it is…
WHAT YOU NEED FOR THIS RECIPE:
Whole wheat or white spaghetti
Mushrooms
Garlic
Extra virgin olive oil
Parmesan cheese*
Chili flakes (optional)
Fresh parsley
Salt & pepper
HOW TO MAKE IT:
Cook spaghetti until al dente
Saute' garlic and chili flakes in olive oil in a large skillet over medium heat
Add mushrooms, salt and pepper and saute' for about 7 minutes
Drain the pasta and reserve some cooking water
Add pasta, cooking water, parmesan, chopped parsley to the skillet
Toss over medium heat until well combined
Serve with extra parmesan cheese and a good drizzle of olive oil. Done!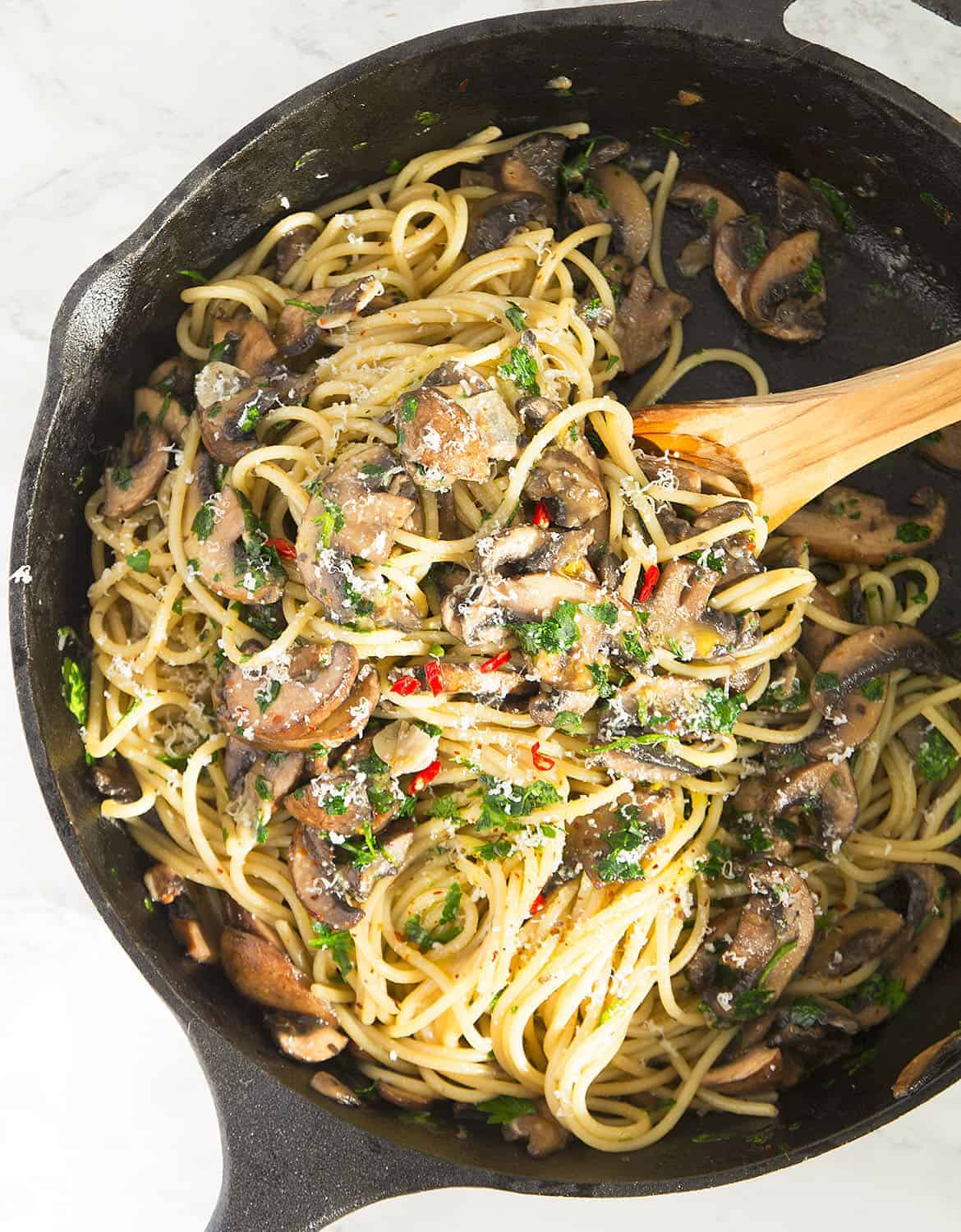 WHY CLEVER?
It's so good, ready in no time, healthy and budget-friendly:
Mushrooms are delicious and packed with umami flavor, but they are also fat-free, low-sodium and low-calories. Plus, they're high in fiber, vitamins and important minerals like Selenium and antioxidants.
Antioxidants are chemicals that get rid of free radicals, a type of chemical that can harm a person's body cells, potentially leading to cancer. They also protect against damage from aging and boost your immune system.
Whole wheat pasta contains more natural fiber and micronutrients than white pasta.
Fiber is an important part of your diet, as it prevents constipation, helps control blood sugar and reduces the appetite.
Research shows that eating three servings of whole grain food per day helps you to live longer.
Extra virgin olive oil features a long list of benefits to your overall health, but the most important is the anti-inflammatory effect which lowers your chances of cancers and oxidative stress.
If you love this garlic mushroom pasta ready in no time have a look at these recipes: broccoli pasta, mint and almond pesto pasta and spaghetti with garlic and olive oil.

Cost of the recipe: approx $ 5 (4 servings)
NOTES:
Mushrooms: portobello, baby Bella, cremini, baby portobella (so many funny names!) but they all work just fine in this recipe. These brown varieties boast more flavor than their common white, and portobello mushrooms are my go-to mushrooms for many recipes.
Flavor: plenty of garlic, parsley and olive oil, plus rich mushrooms and parmesan, both great purveyors of umami flavor. Umami flavor is that rich and savory factor that transforms this dish from good to amazing!
Also, I love adding a lot of chilli flakes or fresh chilli, the smell garlic and chilli gently fried in olive oil is simply delicious. However, most of the times sharing spaghetti with my 4-year-old boy means I can only add chilli at the end.
If you make this garlic mushroom pasta, let me know! Leave a comment, rate it or tag a photo #theclevermeal on Instagram. I would love to hear from you!
Print Pin
15 MINUTE GARLIC MUSHROOM PASTA
This garlic mushroom pasta makes a delicious weeknight dinner and comes together in 15 minutes. This is a real last minute treat for spaghetti and mushroom lovers, guaranteed to please the entire family.
Ingredients
1

lb

Mushrooms (portobello, cremini...)

10

oz

spaghetti or other pasta shapes

4

large garlic cloves, minced

1/4

tsp

chilli flakes, or more to taste

(optional)

2

Tbsp

olive oil, plus extra for drizzling

1/3

cup

grated parmesan cheese, plus extra for serving

3

Tbsp

fresh parsley, chopped
Instructions
Slightly rinse the mushrooms with cold water to remove any dirt or debris and pat dry with paper towels (do not soak them). 

Slice the mushrooms, mince or finely slice the garlic, chop the parsley.


Cook spaghetti in a large pot of boiling salted water according to package instructions. Cook until al dente.


Meanwhile, heat the olive oil in a large skillet over medium heat. Add garlic and chilli flakes and cook gently, until golden, about 2 minutes.


Add the mushrooms into the skillet and season with salt and pepper. Cook, stirring and tossing frequently until the mushrooms are sizzling and brown, about 7 minutes. (If you use cremini mushrooms, they might give off a lot of water during cooking, you have to wait for that liquid to boil off before the mushrooms begin to brown).

When the pasta is ready, reserve 1/2 cup of the cooking water, then drain the pasta. Add the pasta, parsley, grated cheese and reserved cooking water to the skillet (better if you add cooking water gradually, as much as you need it to combine everything nicely). Toss over medium heat for 2 minutes, until the mushrooms and the sauce coat the pasta.

Check the seasoning, adding salt and pepper if necessary. Remove the skillet from the heat, drizzle with extra olive oil and chilli flakes if you like. 

Serve immediately, sprinkled with extra grated parmesan. Enjoy.