Sautéed Mushrooms swimming in a silky garlic butter sauce…these are mushroom perfection! They are great on steak, chicken, or as a side dish.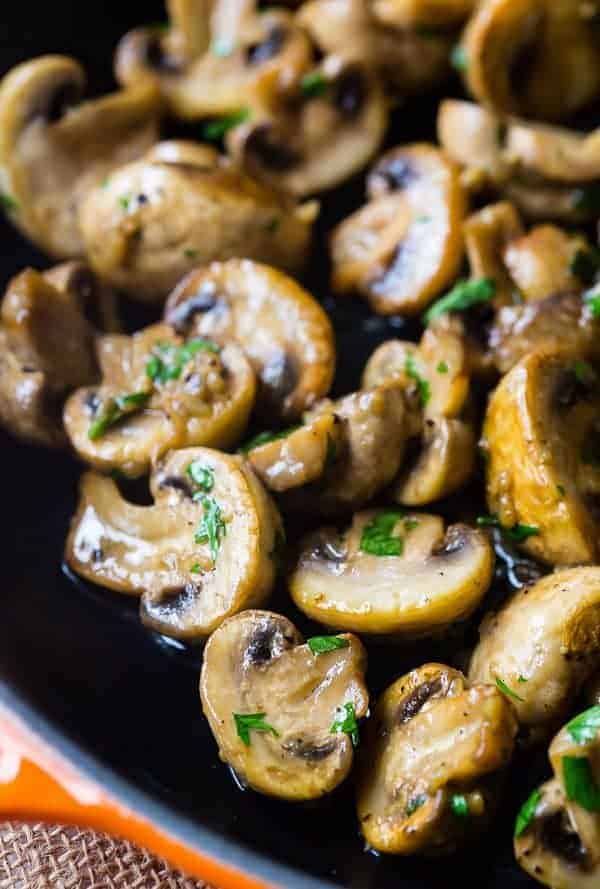 My photography studio is upstairs, as many of you know (remember the cherry martini incident?) and there are certain recipes that I'll finish photographing and end up sitting on the floor eating it right off the set. These mushrooms are one of those recipes. I couldn't stop plucking them out of the pan with my fingers and popping them into my mouth. The garlicky, buttery coated mushrooms are unbelievably irresistible.
This recipe for sautéed mushrooms isn't a fancy or elaborate one in the process or the difficulty, but it is one that really shines in its simplicity. These mushrooms are perfect on top of a perfectly seared steak, or served along side a juicy chicken breast.
Tip: Try cutting these into slices instead of in half and putting them on burgers or in a grilled cheese sandwich! You may need to reduce cooking time slightly, but otherwise follow the directions the same way.
They're great on their own, too. I also enjoyed these reheated the following days after I made them. I quickly warmed them up in a small frying pan and wilted some spinach in with them. It was the perfect vegetable side dish with my scrambled eggs in the morning.
The important thing in making these sautéed mushroom really shine is sautéing the mushrooms in just the right way, which we're going to talk about. You want to get them nice and golden brown — this is where the flavor comes from! The caramelization of the mushrooms is key! Do not be afraid of turning up the heat! In order to accomplish a nice sear on these mushrooms, we're going to start by sautéing them in olive oil, which has a higher smoke point. If you use butter at a high heat like this, it could burn.
Also important, don't constantly stir them! Leave them alone! Resist every urge to stir these before the four minutes are up like the recipe directions read.
Tip: I love, love, love these with the garlic, but if you're not a fan of garlic, this recipe still works well without it. 
When they're nice and golden brown, that's when you're going to add the butter to create a silky, shiny coating on these mushrooms. They're completely irresistible.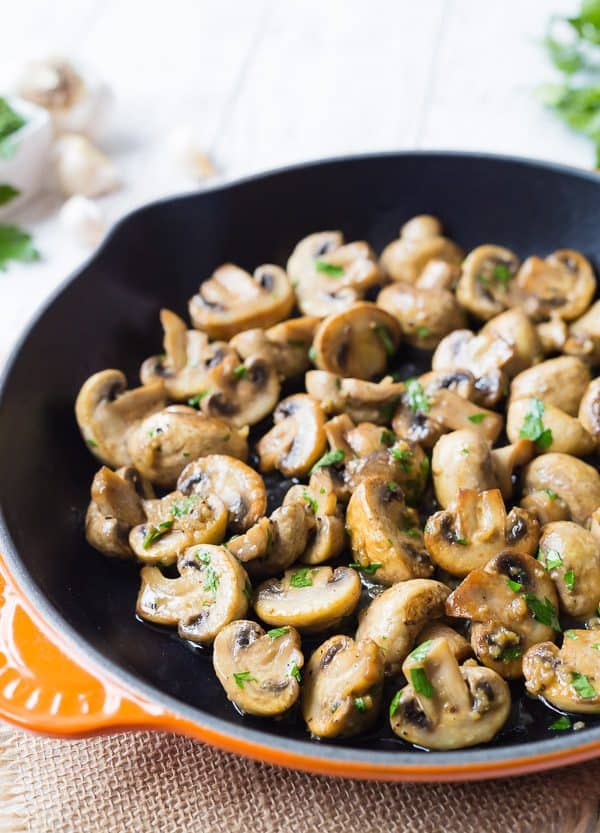 Love mushrooms? Try marsala roasted mushrooms or coq au vin stuffed mushrooms!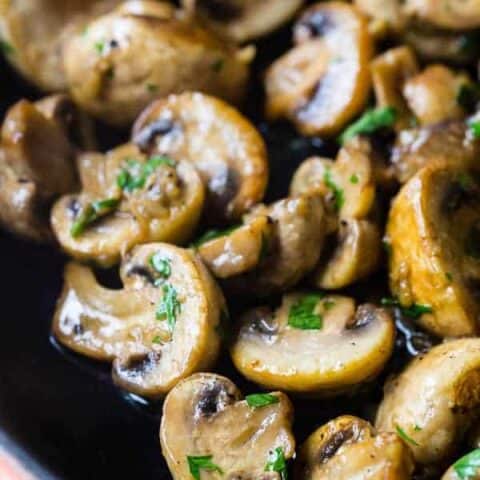 Sautéed Mushrooms with Garlic Butter
Yield: 6 servings

Prep Time: 5 minutes

Cook Time: 10 minutes

Total Time: 15 minutes

Sautéed Mushrooms swimming in a silky garlic butter sauce...these are mushroom perfection! They are great on steak, chicken, or as a side dish.
Ingredients
1 tablespoon olive oil
16 ounces white mushrooms, washed and cut in half
1/2 teaspoon kosher salt
1/4 teaspoon ground black pepper
3 tablespoons unsalted butter
1/2 to 1 tablespoon minced garlic, depending on how much you like garlic (2-4 medium-sized cloves)
1 tablespoon chopped fresh parsley
Instructions
In a large sauté pan (you want the mushrooms to fit in a single layer), heat olive oil over medium-high heat. Add mushrooms and season with salt and pepper. Toss to coat all mushrooms with the oil and then spread them into a single layer.
Cook for four minutes on medium-high heat without stirring. Stir and cook for 2 more minutes without stirring.
Reduce heat to medium-low and add butter and garlic. Cook for 3-4 more minutes, stirring frequently, until mushrooms are fully cooked, butter is melted, and garlic is fragrant.
Remove from heat, stir in parsley and serve immediately.
Nutrition Information:
Yield: 6 Serving Size: 1/6 of Recipe

Amount Per Serving:

Calories: 92 Total Fat: 8g Saturated Fat: 4g Cholesterol: 15mg Sodium: 99mg Carbohydrates: 3g Fiber: 1g Sugar: 2g Protein: 3g

RachelCooks.com sometimes provides nutritional information, but these figures should be considered estimates, as they are not calculated by a registered dietitian. Please consult a medical professional for any specific nutrition, diet, or allergy advice.

Verdict: I couldn't stop eating these sautéed mushrooms!
Husband's take: I don't think I shared with Ben but my guess would be that these are too garlicky for him. He's not a huge fan of garlic.
Changes I would make: None at all!
Difficulty: Very easy!