This Chai Latte recipe has the sweet and spicy flavor that you love, and can be made at home in just minutes. It's dairy-free, naturally sweetened, and makes a great healthier alternative to the kind you'd buy at a coffee shop.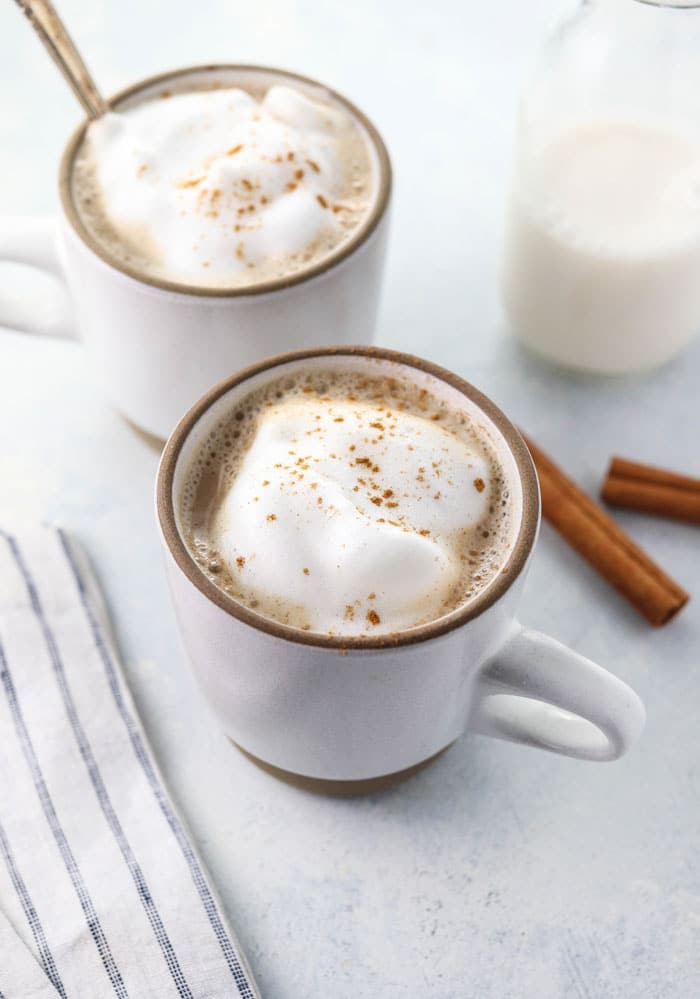 As an added bonus, it's cheaper and has no weird preservatives or additives. I love making it at home because I get to control the amount of spice and sweetness. You can simply taste as you go!
What is a Chai Latte?
Similar to a latte made with coffee, a chai latte is typically made with a tea concentrate and steamed milk. When I worked as a barista in college, the chai concentrate we used had enough sugar in it that it could sit on the counter for over a month without refrigeration. I wanted to figure out a healthier alternative to make at home to avoid that!
Does a Chai Latte have caffeine?
Chai lattes that are made with black tea do have some caffeine, but this particular recipe is caffeine-free because you get to skip the tea entirely. I personally don't have the patience to wait for tea to brew, and then make a latte out of it, so this recipe gets its flavor from an easy combination of spices instead.
This recipe is quick and simple to make on the stove top, but if you want an extra-authentic drink that would come from a coffee house, you can use a milk frother (affiliate link) to heat the milk for this latter, or just to add a dollop of foam to the top, or you can vigorously whisk the milk over the stove to help make some foam without any extra equipment.
However you make it, I hope you'll enjoy this easy and flavorful drink! It's the perfect way to satisfy your sweet tooth when it's chilly outside, and I have a feeling it would be delicious served over ice for a warmer day, too.
Print Pin
Easy Chai Latte Recipe
Neutral |  Gluten-free, Dairy-free, Soy-free, Egg-free, Vegan
This naturally-sweetened chai latte tastes like a coffeehouse drink without the extra sugar or preservatives. It's caffeine-free and can be easily customized to your tastes! 
Ingredients
2

cups

almond milk

(or milk of choice)

3/4

teaspoon

ground cinnamon

, or to taste

1/4

teaspoon

ground ginger

1/8

teaspoon

ground cloves

3

tablespoons

maple syrup

(or sweetener of choice)
Instructions
In a small saucepan over medium-high heat, combine the almond milk, cinnamon, ginger, cloves, and maple syrup. Whisk to combine, stirring regularly until the mixture is piping hot. 

Adjust any seasoning to your taste and serve immediately. Leftovers can be stored in an airtight container for up to 4 days in the fridge. You can serve them chilled over ice, or reheat on the stove again. 
Nutrition
Calories:
119
kcal
|
Carbohydrates:
22
g
|
Protein:
1
g
|
Fat:
3
g
|
Sodium:
328
mg
|
Potassium:
67
mg
|
Fiber:
1
g
|
Sugar:
18
g
|
Calcium:
340
mg
Per Serving: Calories: 119, Carbohydrates: 22, Fiber: 1, Fat: 3, Protein: 1
Recipe Notes:
Because this is a quick stove top recipe, you can adjust anything you like and taste as you go. If you need to use a zero calorie sweetener, just add it to your taste instead of using maple syrup.
The same goes for the spices! I think Chai Lattes tend to have a lot of spice, but if you don't care for as many, you can always start will less and just add more to taste as you go.
If you prefer to use another milk, go for it. I think my homemade hemp milk would work great for this recipe, too, if you need a nut-free option.
If you'd prefer a frozen version of this drink, be sure to try my Frozen Chai Latte smoothie. It tastes so much like a blended drink from Starbucks!
As always, if you try something different please leave a comment below so we can all benefit from your experience.
—
Reader Feedback: Do you have a favorite coffee house drink that needs a healthier makeover? Feel free to make any requests in the comments below!
SaveSaveSaveSave