Enjoy Downton Abbey Lavender Tea Bread (tea loaf) recipe for your next "tea," along wtih pictures and stories from Highclere Castle, Hampshire, England. WATCH THE VIDEO!
Friends, I still have to pinch myself, that I was able to visit Highclere Castle, where Downton Abbey was filmed, and the little town of Bampton, a couple years ago.
Today I'm sharing a delicious Downton Abbey Lavender Tea Bread that I was able to enjoy while I visited the castle. 
What is tea loaf?
I like to think tea loaf is the same as tea bread, but it's different. They're both an English cake, but tea loaf is made with fruit and cinnamon, and traditionally served sliced served with butter. Tea bread is actually "tea buns" to be eaten with tea. 
Lavender Tea Bread
Well, today's recipe is sort of like a cake, but in the shape of a loaf.
Let's just call it Lavender Tea Bread :)
A dream come true!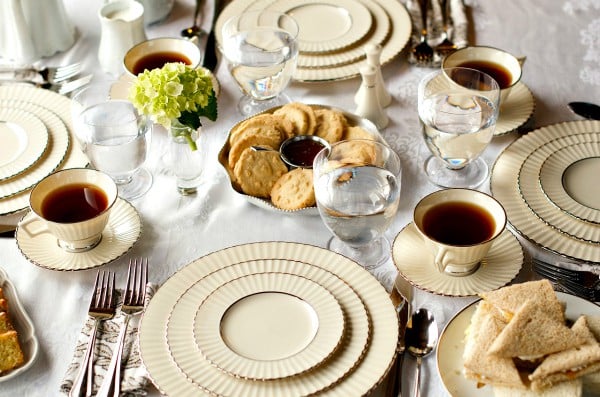 Downton Abbey Lavender Tea Bread
I recommend you use fresh ground lavender for this recipe, but you can always double the amount and used dried (just not as flavorful).
Highclere Castle, Hampshire, England
Friends, let's talk "estate." Since 1679, the castle has been home to the Earls of Carnarvon.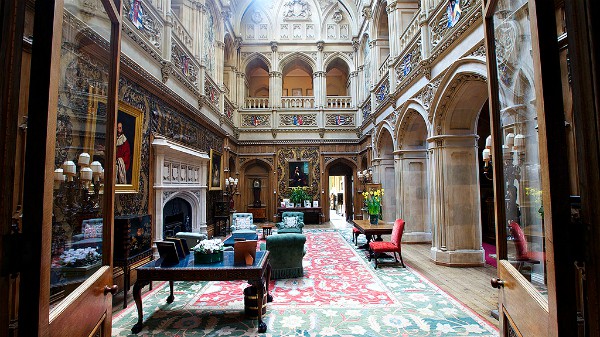 Currently Highclere, the centerpiece of Downton Abbey, is home to the Earl and Countess of Carnarvon, but did you know there are over 5000 acres? I would have loved to spend time touring the entire estate!
By 2009, the castle was in dire need of major repair, with only the ground and first floors remaining usable. Water damage had caused stonework to crumble and ceilings to collapse; at least 50 rooms were uninhabitable.
Lord and Lady Carnarvon
The 8th Earl and his family were living in a "modest cottage in the grounds"; he said his ancestors were responsible for the castle's long term problems." As of 2009, repairs needed for the entire estate were estimated to cost around $12 million, $1.8 million of which was urgently needed for just the castle.
As of late 2012, Lord and Lady Carnarvon have stated that a dramatic increase in the number of paying visitors has allowed them to begin major repairs on both Highclere's turrets and its interior. The family attributes this increase in interest to the on-site filming of Downton Abbey. The family now live in Highclere during the winter months, but return to their cottage in the summer, when the castle is open to the public. — from Wikipedia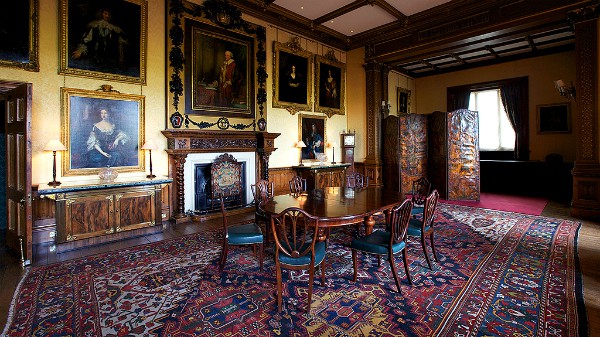 Lady Fiona was so generous with her time, and at tea, she shared the history behind all the portraits that lined the walls, plus what it was like to live in the castle, raise their son, all her charity work, and … a fun tidbit. Did you know that the Downton "kitchen" was off site, on a set in London? The actual Highclere castle kitchen is now modern, remodeled to accomodate events that take place there.
In the dining room are portraits of Carnarvon ancestors who took part in the civil war in England in the 1640's.
There are over 5,650 books, the earliest dating from the 16th century. The Library is as much used by the family today as in the past, and is a focal meeting point for drinks and conversation, both before and after lunch and dinner.
Either side displays portraits of Carnarvon ancestors who took part in the civil war in England in the 1640's.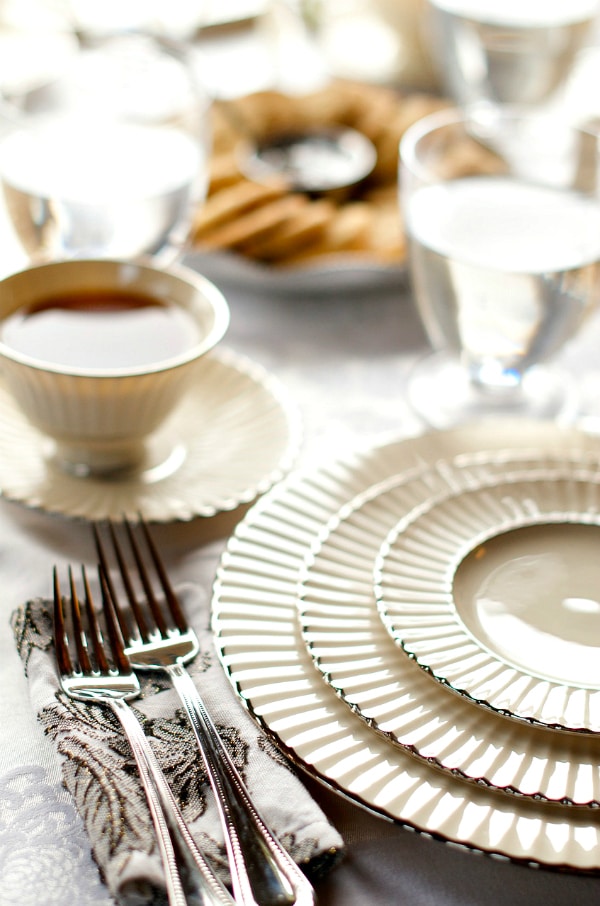 Downton Abbey Lavender Tea Bread
Reflecting on my Highclere visit, I hosted a tea in my home. It was simple, lovely, and I hope you enjoy this Lavender Tea Bread today!
The bread is fabulous, and I'm updating this post with a little advice from a reader, who just made the bread and gave me some sage advice. Less is more (when you use dried lavender).
Use a little over a tablespoon in this recipe, and it comes out perfectly.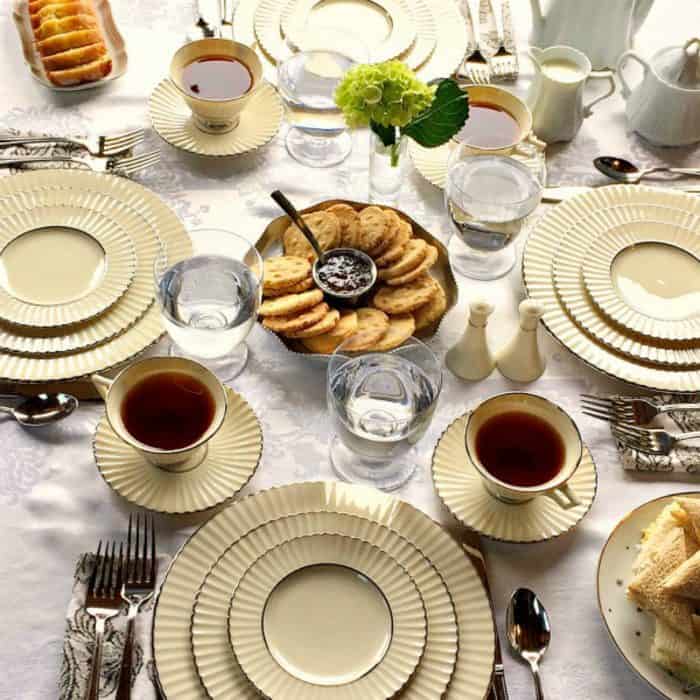 Downton Abbey Dinner Party Menu
Lori, at RecipeGirl.com, has a Downton Abbey dinner party menu if you're feeling courageous and want to host a party this week. Do it! And come back and let me know how it goes.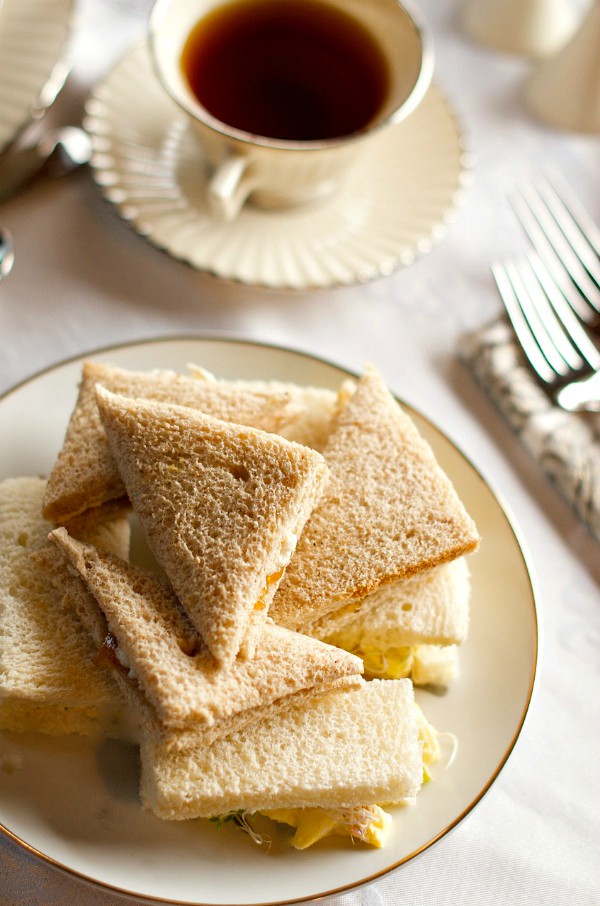 Here's my post with tea sandwich recipes.
And possibly you've tried my Pear Potato Soup recipe? I think Mrs. Patmore would approve!
I'm a huge Downton Abbey fan … I hated that the show had to end. I think at this point my favorite character is Tom. Possibly because he is an Irishman, and I'm married to the most amazing Irishman, or maybe it has something to do with his virtuousness. Maybe they'll do a spin-off with Tom … what do you think?
Who is your favorite Downton Abbey character?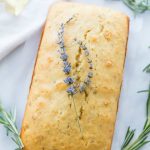 Print Recipe Pin Recipe Leave a Review »
Downton Abbey Lavender Tea Bread
Ingredients
3/4

cup

milk

1

Tbsp.

fresh lavender

,

finely chopped (or 2 tsp. dried)

6

Tbsp.

butter

,

softened

1

cup

white sugar

2

eggs

1/2

tsp.

vanilla extract

2

cups

all-purpose flour

1 1/2

tsp.

baking powder

1/2

tsp.

salt

1/3

cup 

sifted powdered sugar

1

teaspoon 

water

1/4

teaspoon 

vanilla extract
Instructions
Preheat the oven to 325 degrees. Grease and flour a 9×5 inch loaf pan.

Combine the milk and lavender in a small saucepan over medium heat. Heat to a simmer, then remove from heat, and allow to cool slightly.

In a medium bowl, cream together the butter and sugar until smooth. Beat in the egg until the mixture is light and fluffy; add in vanilla. Combine the flour, baking powder, and salt; stir into the creamed mixture alternately with the milk and lavender until just blended.

Pour into the prepared pan.

Bake for 45-50 minutes in the preheated oven.

To prepare glaze, combine powdered sugar and remaining ingredients. Spread over hot cake. Cool in pan 20 minutes on a wire rack; remove from pan. Cool completely on wire rack.
Did you make this recipe?
Tag @reluctantentertainer on Instagram and hashtag it #reluctantentertainer!
Highclere Castle photos by TravelChannel.com