Sipping on a cup of tea with a couple teaspoonfuls of honey, is an age-old way to soothe a sore throat. So it seems that the Starbucks Medicine Ball recipe is based on this time-honored "remedy." A Medicine Ball tea drink, also referred to as Sick Tea, Cold Buster or Medicine Bomb, originated on the Starbucks hot tea secret menu. However, its popularity helped launch it onto the official Starbucks menu as Honey Citrus Mint Tea. Additionally, they have several other Wellness teas.
While this honey-flavored, lemony, minty, fruity tea concoction doesn't necessarily cure a cold or the flu, it certainly can soothe a sore throat temporarily. Did you know that, in fact, a little honey can suppress a cough? According to the Mayo Clinic's website, one study shows that honey is as effective as the main ingredient in over-the-counter cough suppressants. Of course, coughing isn't necessarily bad as it clears the airways, but if your cough is keeping you from getting some shut-eye, maybe a cup of Medicine Ball tea before bed is worth a try.
Starbucks Medicine Ball Tea Recipe
There are two ways (well probably way more) to make Medicine Ball Tea: (1) according to the Starbucks recipe or (2) using a homemade variation. And since my daughter is a Starbucks barista, I've got the inside scoop on exactly how Starbucks makes their Honey Citrus Mint Tea. In fact, it's quite simple.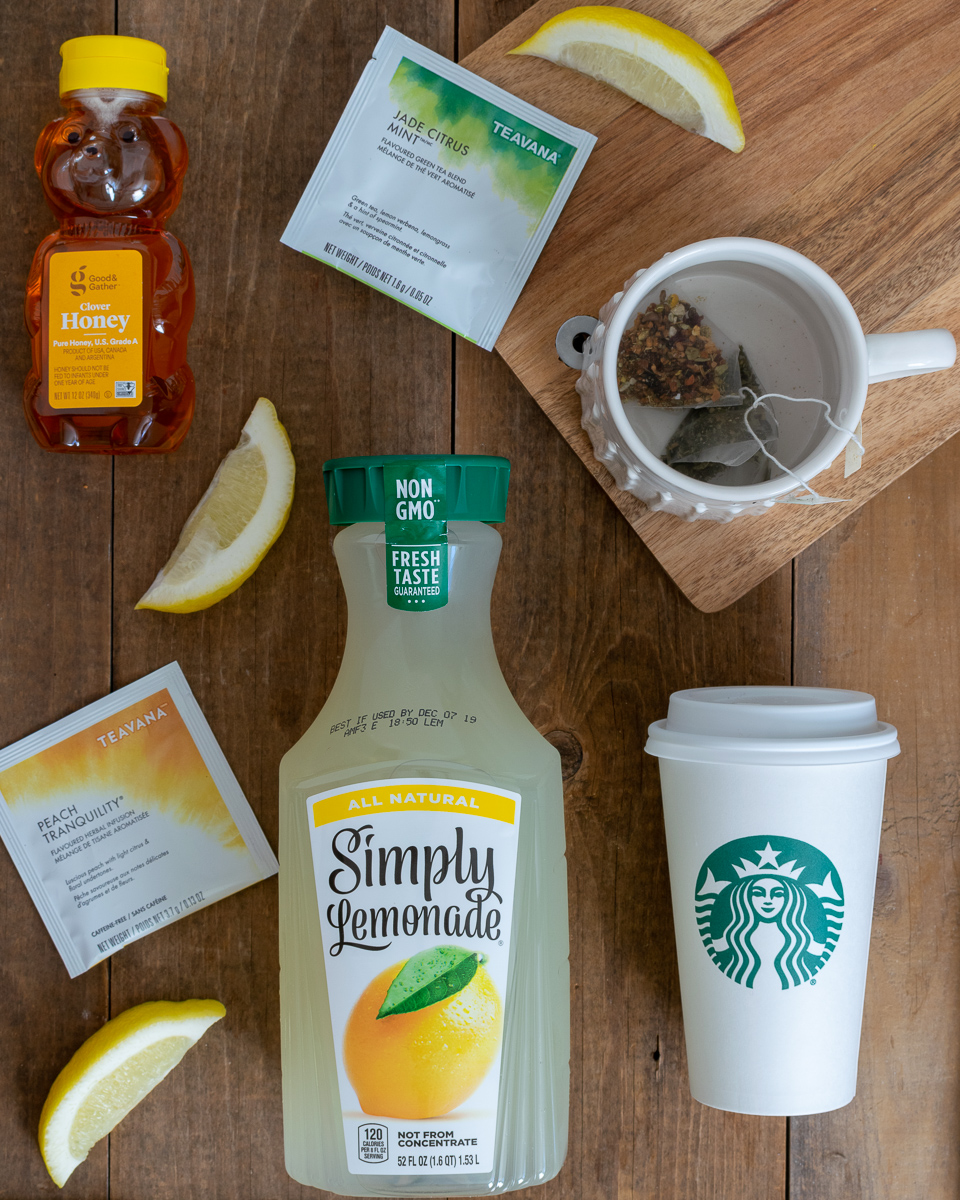 Honey Citrus Mint Tea Ingredients
Keep in mind, this tea recipe uses two tea bags. And it's available at Starbucks in Tall (12 oz.), Grande (16 oz.) or Venti (20 oz.) size cups. Also, this drink is made using equal amounts of hot water and steamed lemonade concentrate. Here are the Starbucks ingredients for a 20 ounce Honey Citrus Mint Tea (aka Medicine Ball):
1 Teavana Peach Tranquility herbal tea bag
1 Teavana Jade Citrus Mint green tea bag
8-9 ounces hot water
8-9 ounces steamed lemonade concentrate
2 packets of honey
1 pump of Peppermint syrup (optional)
Teavana Tea Jade Citrus Mint and Peach Tranquility
Photo Credit: www.amazon.com
To make Medicine Ball Tea like Starbucks (also known as Honey Citrus Mint, Medicine Bomb or Sick Tea) use these two flavors of Teavana sachets: Peach Tranquility and Jade Citrus Mint.
It's worth noting that Starbucks "lemonade" is actually a lemonade concentrate and is not quite as sweet as store-bought lemonade, nor is it as watered down. I discuss a little more about that in this post, Passion Tea Lemonade: 5 Tips to make it like Starbucks. Additionally, for reference, each packet of Billy Bee honey contains .29 oz. (8g) of honey, or 1.75 teaspoons.
How to make Starbucks Medicine Ball Tea at home
If you're like me, the last thing you want to do when you're under-the-weather is leave home and go to Starbucks. So I like to keep the ingredients on-hand, especially during cold and flu season. That way I can easily make a Honey Citrus Mint Tea at home. Plus, you can make as many cups as you want, it's way cheaper, and it's easy to adjust the flavors to suit your taste.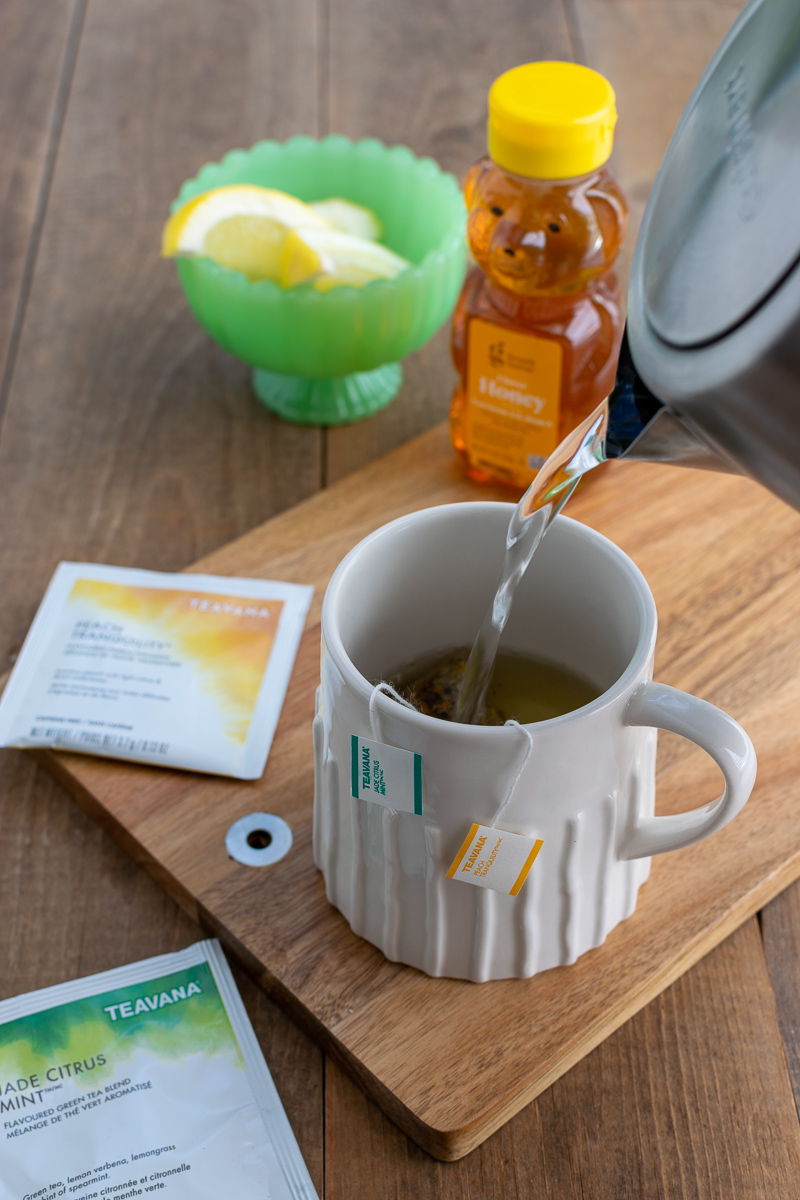 Personally, I like way less sweetener and way more tart. However, before I show you my variation on Medicine Ball Tea, let's first talk about how to make the Starbucks copycat recipe.
Starbucks Copycat Recipe
The goal of a copycat recipe is to duplicate the original recipe as closely as possible. With the exception of the lemonade concentrate, that's fairly simple to accomplish for this particular beverage. Try to find a lemonade that's not overly sweet or make your own homemade lemonade where you can control the sugar and water (but that's getting too complicated).
The good news is that it's easy to find exact substitutes for the Starbucks Honey Citrus Mint Tea recipe above. Luckily, many stores sell Teavana Peach Tranquility and Jade Citrus Mint tea sachets. They're also readily available on Amazon. And if you really want to replicate this drink, you can even get the exact same honey that Starbucks uses, Billy Bee Pure Canadian Clover Honey.
Combine the tea ingredients
First, put the two tea bags in a 12-20 ounce cup. Steam the water and lemonade in a saucepan on the stove. It's important to not bring the water/lemonade mixture to a boil since that's too hot for the green and herbal tea leaves. Pour the steamed lemonade over the tea bags until the cup is almost full. Finally, add the honey and stir. Let it steep 3-4 minutes and it's ready to drink.
Feel free to adjust the ratio of water and lemonade. Remember, Starbucks uses half water, half lemonade concentrate, which, when combined is really equivalent to lemonade. You may even want to use 100% lemonade and no additional water. It's really up to you.
Healthier Homemade Medicine Ball Tea
Like I said before, I like to make this drink a little less sweet and a little more tart. I even like the tea a little stronger. However, honey is an absolute necessity in this drink for its throat-soothing capabilities. Therefore, the only other ingredient to adjust is the lemonade.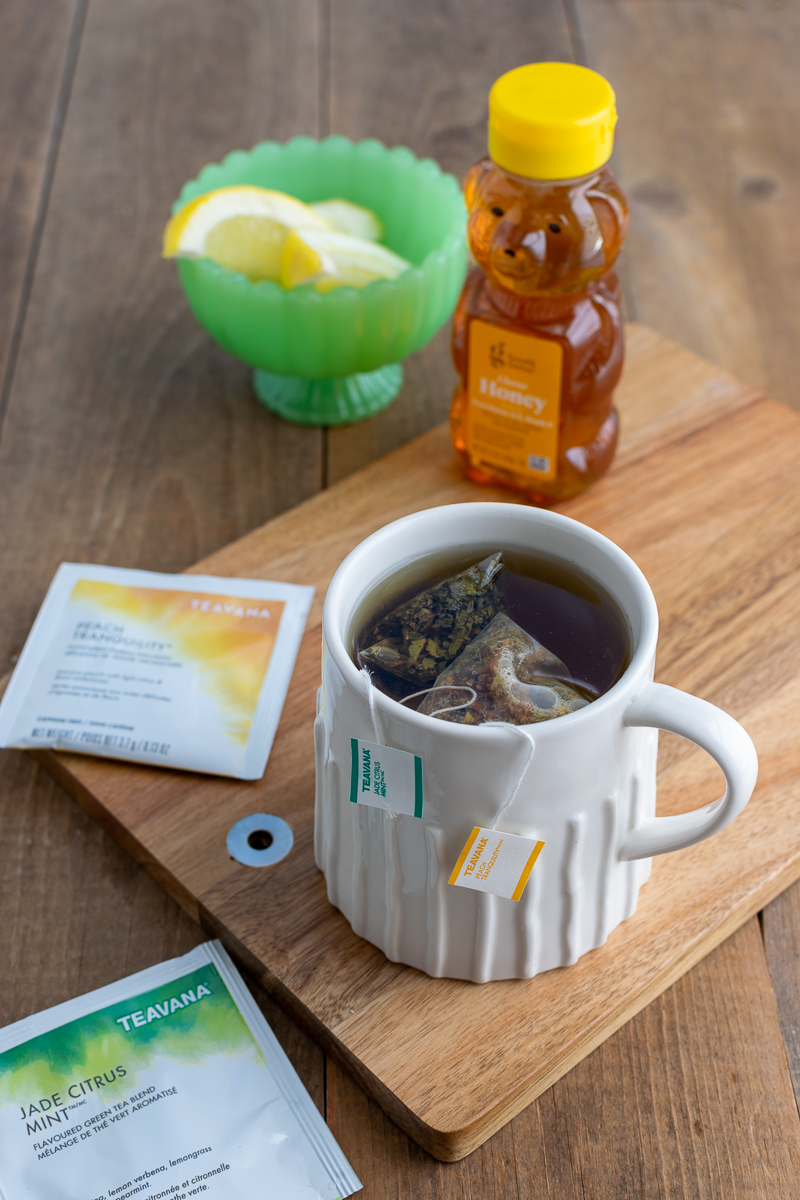 And since a Starbucks Grande Honey Citrus Mint contains 33g of sugar, I'm all for making a healthier version. Here's how I make it.
Similar to Starbucks Honey Citrus Mint recipe and the Starbucks copycat recipe, put two tea bags in a cup, a peach tranquility (herbal tea) and a jade citrus mint (green tea). Feel free to substitute the tea bag flavors with your favorites, just be sure that one is mint-flavored and one is a fruity herbal tea.
Next, heat the water to temperature (not boiling) and fill up the cup. Squeeze in the lemon juice from a good-sized lemon wedge, maybe about one tablespoon. Then add 2 teaspoons of honey. That's it. It's really delicious and definitely brings a little temporary relief to a cold or flu.
If you drink tea often, you may want to get an electrical kettle with temperature settings like mine, the Cuisinart PerfecTemp. Being able to select the proper temperature for each type of tea has been a real life-saver. Well, maybe that's too dramatic…more like a real tea-saver!
In the meantime, enjoy this Starbucks Medicine Ball recipe. Happy tea drinking.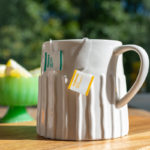 Print Recipe
Homemade Medicine Ball Tea
Medicine Ball Tea (Honey Citrus Mint Tea at Starbucks) is the perfect tea to soothe a sore throat. It's delicious and simple to make at home.
Ingredients
1

Teavana Peach Tranquility tea sachet (herbal tea)

substitute with any fruity herbal tea

1

Teavana Jade Citrus Mint tea sachet (green tea)

substitute with a mint-flavored tea

10

ounces

Hot water

you can combine lemonade and water for a sweeter and more lemon-flavored tea

1

tsp

Honey

add more honey if desired

1

tbsp

Fresh lemon juice

adjust amount as desired
Notes
This drink is made with two tea bags (one mint and one herbal), water, honey and lemon. The amount of lemon or lemonade can be adjusted according to your preference. If you choose to use lemonade, just steam a total of ten ounces of lemonade and water on the stove.