It's time to relax! Enjoy a steamy mug of Chai Tea and breathe in the spicy, soothing aromas of cinnamon, cloves, ginger, and cardamon!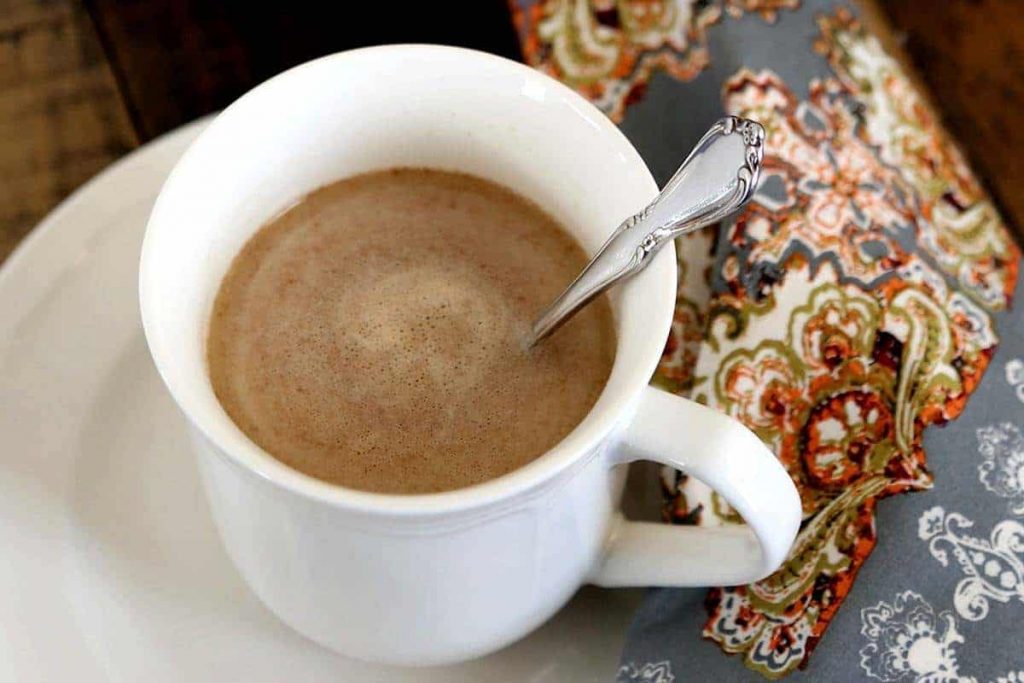 Today may be the official first day of Spring, but early mornings and evenings are still quite chilly around here. Chilly temps are a perfect time for getting cozy and sipping on a warm mug of Chai tea. A friend shared this recipe with me for Instant Chai Tea Mix, so now it's easy and convenient to enjoy Chai without making a special trip to the coffee house—and it's much cheaper, too!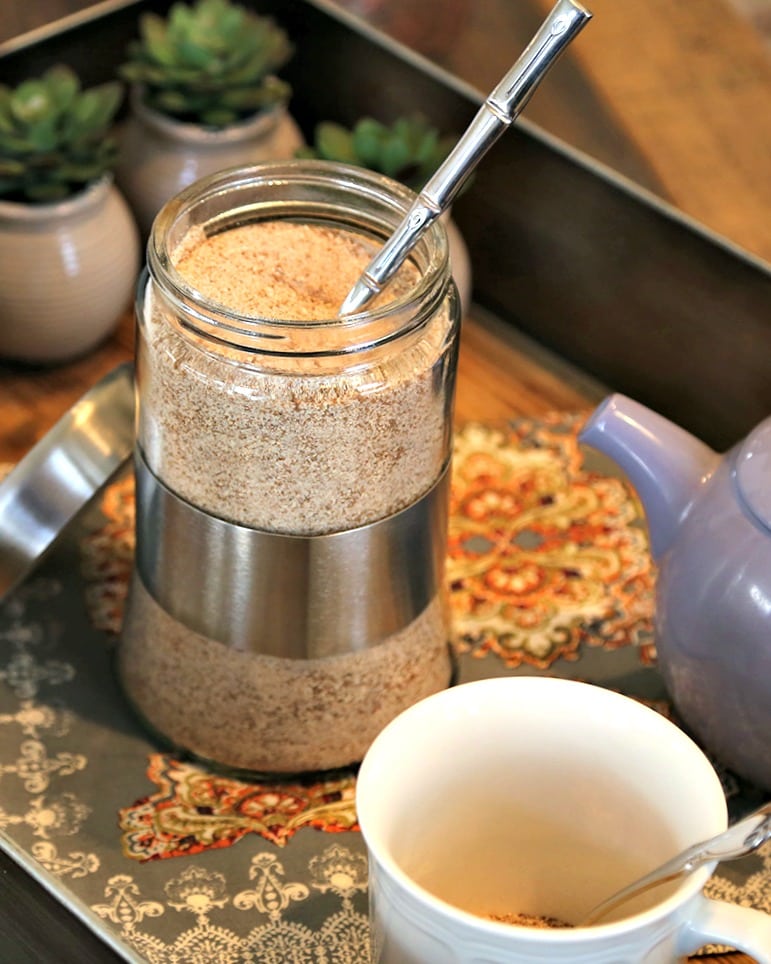 "Chai" is the common word for "tea" in many parts of the world. What we've come to enjoy at American coffee houses actually originated in India as a spiced milk tea generally made up of a sweetened rich black tea, heavy milk, and a combination of various spices. With this instant recipe you don't actually seep the tea so it's not particularly authentic, but for a quick drink it's actually very good.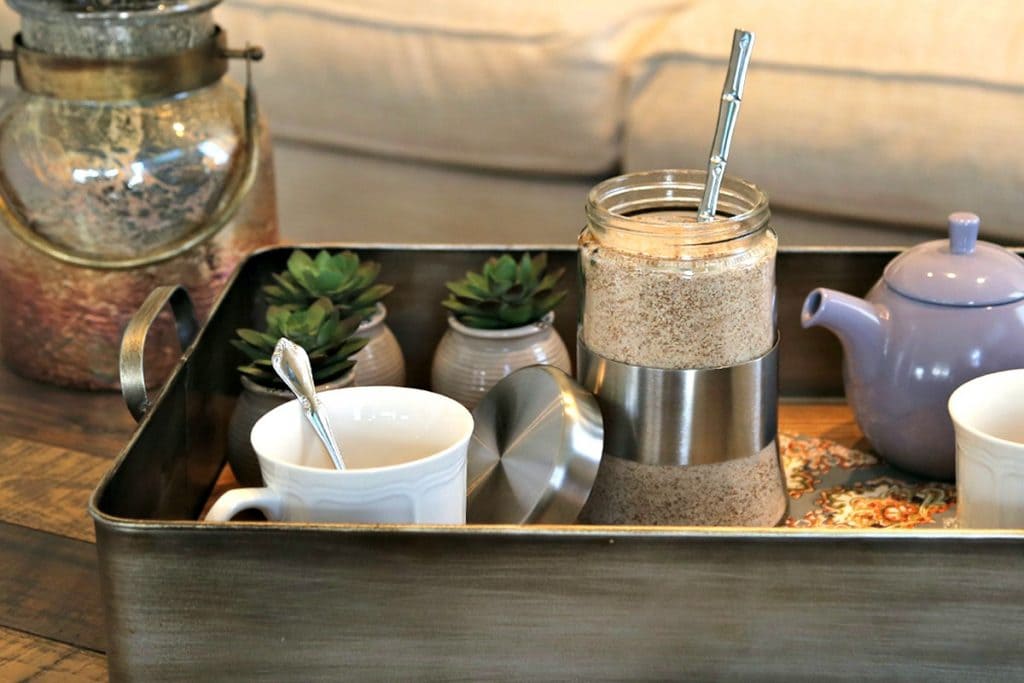 The recipe is a fragrant mixture of some of my favorite spices—cinnamon, cloves, ginger, allspice, nutmeg, and cardamon—along with non-dairy powdered creamer, dry milk powder, sugar, and unsweet instant tea. Once all the ingredients are combined, you'll have enough mix to make about 40 servings…plenty enough to share and a great gift idea,too! In fact, make a double batch and package the mix for Easter gifts or teacher appreciation gifts. I love these glass jars from Amazon with hinged lids and matching spoons—so pretty and perfect!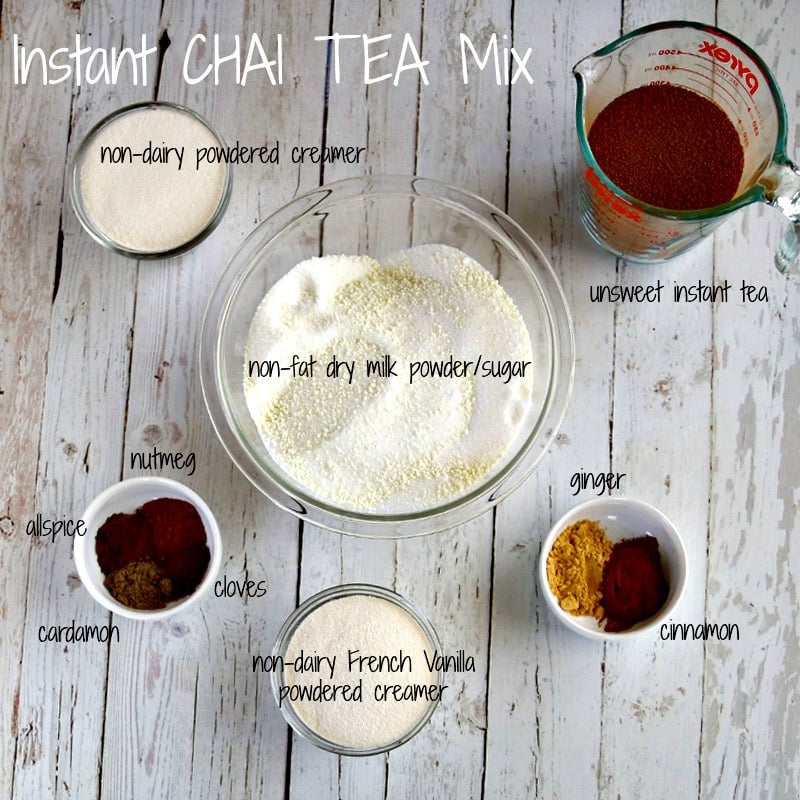 I remember my grandmother used to make Russian tea with instant tea and Tang—remember Tang, the powdered orange drink mix? I thought it was disgusting! But don't worry, Instant Chai Tea Mix is nothing like that, so don't be afraid to give it a try! Enjoy, friends!
Yield: 40 servings
Instant Chai Tea Mix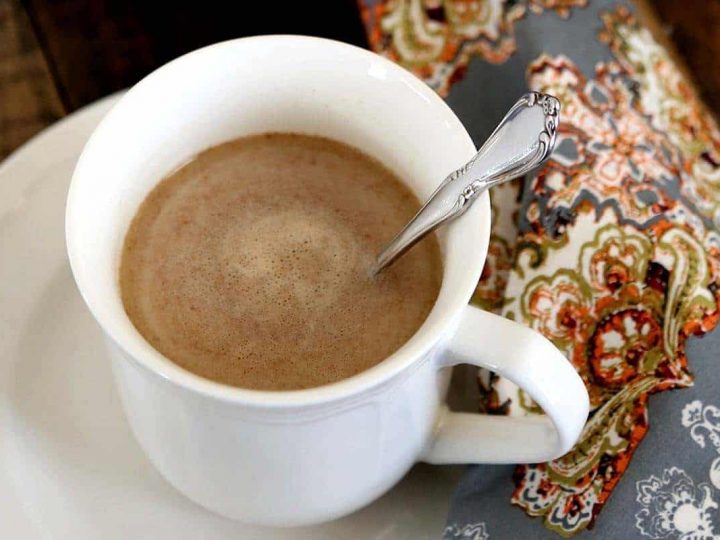 It's time to relax! Enjoy a steamy mug of Chai Tea and breathe in the spicy, soothing aromas of cinnamon, cloves, ginger, and cardamon!
Ingredients
1 cup non-fat dry milk powder
1 cup non-dairy powdered creamer
1 cup French vanilla flavored powdered non-dairy creamer
2-1/2 cups sugar
1-1/2 cups unsweet instant tea
2 teaspoons ground ginger
2 teaspoons cinnamon
1 teaspoon all spice
1 teaspoon cloves
1 teaspoon cardamon
1 teaspoon nutmeg
Instructions
Combine all ingredients and store in a tight jar.
To serve, place 2 heaping tablespoons of Chai Tea Mix into a mug. Add hot water and stir.
Recommended Products
As an Amazon Associate and member of other affiliate programs, I earn from qualifying purchases.
Pyrex 2-Quart Glass Measuring Cup



Collapsible Silicone Measuring Cups and Spoons 
Nutrition Information:
Yield:
40
Serving Size:
1
Amount Per Serving:
Calories:

84
Total Fat:

1g
Saturated Fat:

1g
Trans Fat:

0g
Unsaturated Fat:

0g
Cholesterol:

0mg
Sodium:

13mg
Carbohydrates:

16g
Net Carbohydrates:

0g
Fiber:

0g
Sugar:

14g
Sugar Alcohols:

0g
Protein:

1g