There is nothing better to warm your bones on a cold winter day than a hot cup of tea. Make that cup of tea a delicious spicy black chai, and you will be in seventh heaven. The fragrant and warming spices that make up a cup of chai are so comforting and tasty, and the smell in your house while making it is no less than amazing! I don't know about you, but I'm usually a little bit disappointed with the chai from coffee shops, as they are often way to sweet and not spicy enough. On the rare occasions that I've actually liked the chai that I've ordered, it's usually made in house and is only the slightest bit sweet. It didn't take me long to figure out that I could make this myself at home with minimal effort, and exactly the way I like it. So now, I have for you, my own personal favorite homemade spicy black chai recipe.
Spicy Black Chai Recipe
This is what you will need to make this chai. The amounts are adjustable, so play around and adjust as you see fit for your own tastes. I'll admit that I like my chai very spicy, so if you're not into that you may want to use a smaller amount of spices. I promise I won't think less of you.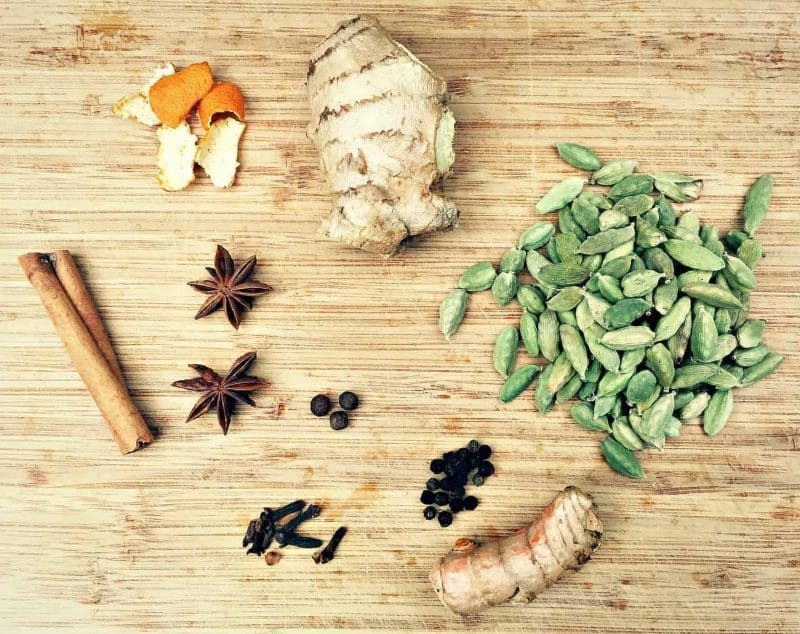 First slice up the ginger and turmeric, then add all of the spices to a pot with approximately 2 quarts water.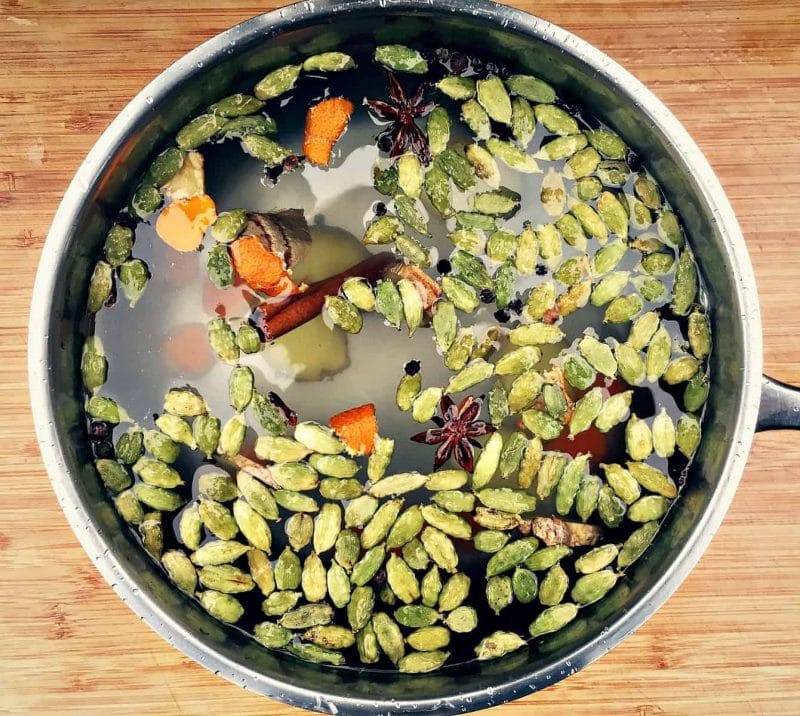 Bring spices to a boil, then turn down to a nice simmer for about 30 minutes or so.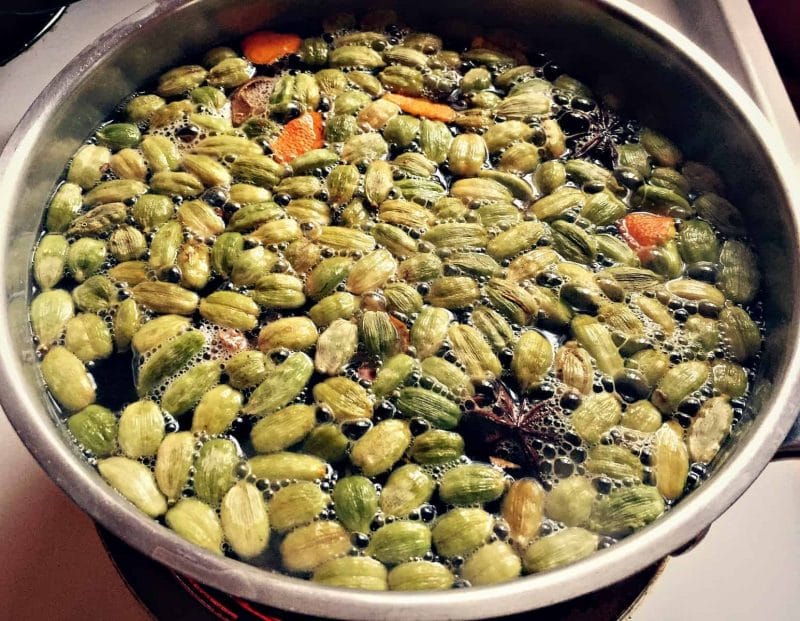 This is when your house will smell amazing. I think making this spicy black chai recipe also acts as a great aromatherapy session!
When you feel it's time, strain the spices out of the chai. I usually do this into another pot.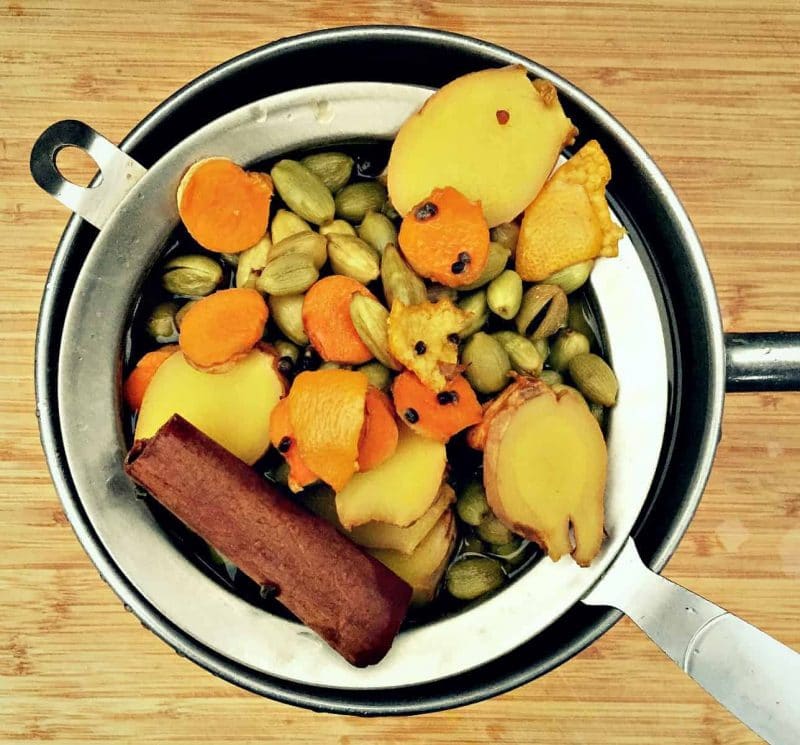 Add a couple of spoonfuls of black tea to the strained hot herbal chai mixture, and let that sit for about 5 minutes. You can also use tea bags if you don't have loose leaf tea.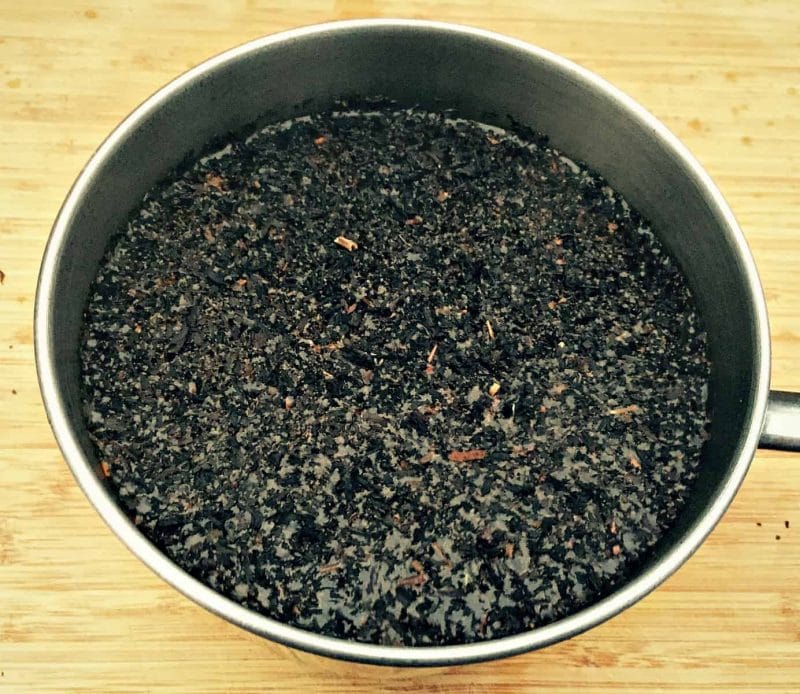 In the meantime, you can put the whole chai spices back into the original pot, cover with water, and boil again to get a second batch. It will be less strong, but I just mix it back in with the first batch for an even balance.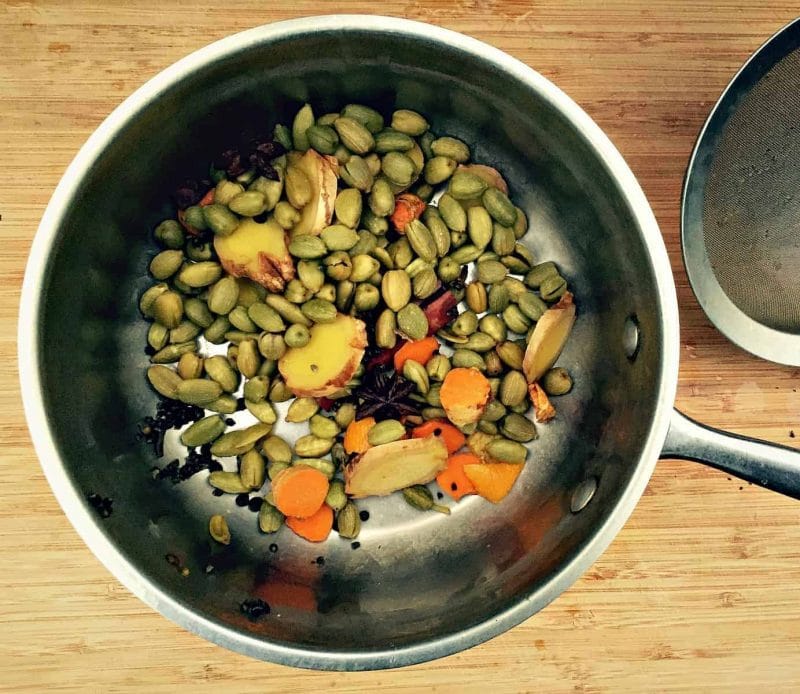 Then strain the tea leaves (or remove the tea bags) and drink up! You can even reuse the tea leaves (or bags) for the second reboiled batch of spices.
Whatever chai I'm left with that I'm not going to drink immediately, I store in mason jars in the fridge. It's easy to just gently heat it up for a hot cup anytime. Or if it's summer I often drink it cold over ice. I like my chai straight up and unsweetened, but please feel free to add a little sugar or honey, and milk or cream of your choice in order to make a more traditional chai beverage. Make it yours!
If you love chai, also try Chaga Chai or here is another recipe for homemade chai that uses ground spices from Joybilee Farm.
Tell me, how do you like your chai? Sweet or spicy? With or without milk or cream? Hot or iced?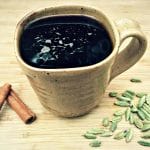 Print Recipe Pin Recipe
Spicy Black Chai Recipe
Homemade chai tea tastes amazing, and it's so easy to make! Ditch the coffee shop versions with too much sugar and not enough spice, and make your own homemade spicy black chai tea using this easy recipe. 
Ingredients
US Customary - Metric
1/3

cup

green cardamom pods

2"

knob

fresh ginger root

sliced

1"

knob

fresh turmeric root

sliced

dried orange peel

1

cinnamon stick

2

whole star anise

3

whole allspice berries

6-8

whole cloves

1/2

tsp

whole black peppercorns

3

Tbsp

loose leaf black tea
Instructions
All all the ingredients except the black tea to a medium sauce pot along with 2 quarts water. Bring the liquid to a boil, then reduce to low and simmer for 30 minutes.

Strain the spice from the chai into a second pot. Add the black tea leaves to the chair mixture and steep for 5 minutes. Strain out the tea leaves and enjoy immediately! 

Leftover chai can be store in mason jars in the fridge. Gently reheat for hot tea, or pour over ice for iced chai tea. 
Notes
Store leftover tea in the refrigerator. 
Nutrition
Serving:
2
cups
|
Calories:
2
kcal